Emily just did the loveliest post about our apartment on Apartment Therapy. There's nothing quite like seeing your space through someone else's eyes—I just love it! Lux joyfully followed Emily and her husband Max around when they were here, and managed to get into about half the photos. : )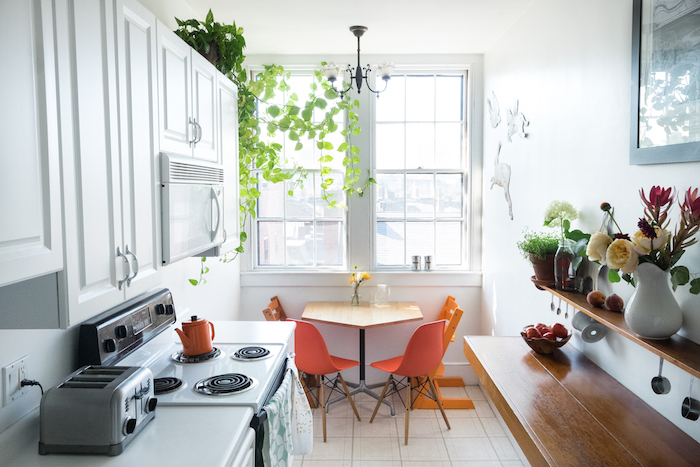 It's a pertinent post for these days because it feels like everyone has been asking since I got pregnant: are you moving? We are not, or at least not for a year or two. The baby will be in our room for six months or so, and then might move into the closet like Joan did, and then into the girls' room. Joan can move under the new bunk bed and baby can take over Joan's crib. It feels so distant to remember our old place, when Lux was in our room for her first year and a half.
With even just a little bit of nesting that I've done, I'm already finding corners we can rework and make more livable and comfortable, and storage that can be done better.
The girls' clothing storage, as seen below, is probably not going anywhere though and is in fact, accumulating with time!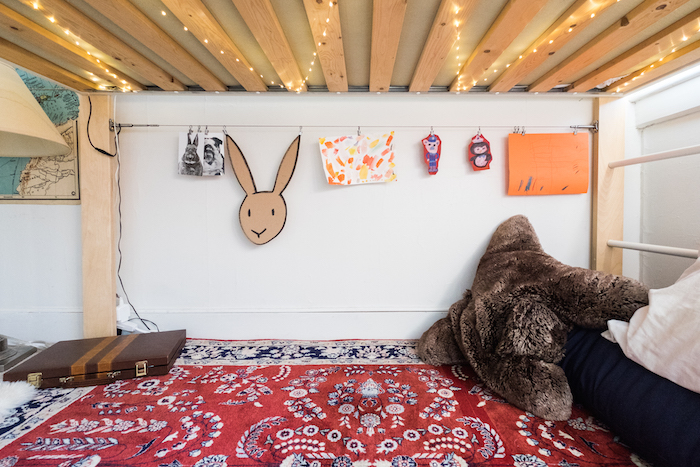 I've been wanting to post a photo of Lux's bunk bed that she conveniently asked for for her 4th birthday. Joe found it on craigslist. It's vintage IKEA and took him about four uninterrupted hours to put together…it's so vintage that none of the screws were streamlined or matched at all.
Our main goal was to find a bunkbed design that let in as much light as possible–which was surprisingly hard to find. We're so happy with this one. Joe made the romantic roof from the old detachable side of Lux's crib! (Her IKEA sniglar crib bed, same model as Joan's, had really taken a beating and had to be retired completely.)
Minor, but I'm very into the results that come from the magna-tiles and duplos being the only accessible toys outside of their room. They are constantly playing with them and building-chaos is one of the few types of chaos that makes my heart happy. If you decide to order magna-tiles, I recommend splurging for a lot, like the 100 piece set. We're planning on ordering more soon, just to keep up with the range of structures they both like to build.
The pinboard wall has solved all our art storage needs. I love it so much. You can find some of the construction details on the apartment therapy post. At the time, it seemed crazy to me to splurge for custom-milled wood, but it was totally worth it because it's so pretty and it's the biggest thing in the room! (I was initially pinboard-inspired by this home tour on Cup of Jo.)
I find that as long as I clean off their art table every evening (and yes, ruthlessly throw away the ten sheets of paper they filled that day), it's one of the first places they head to every morning.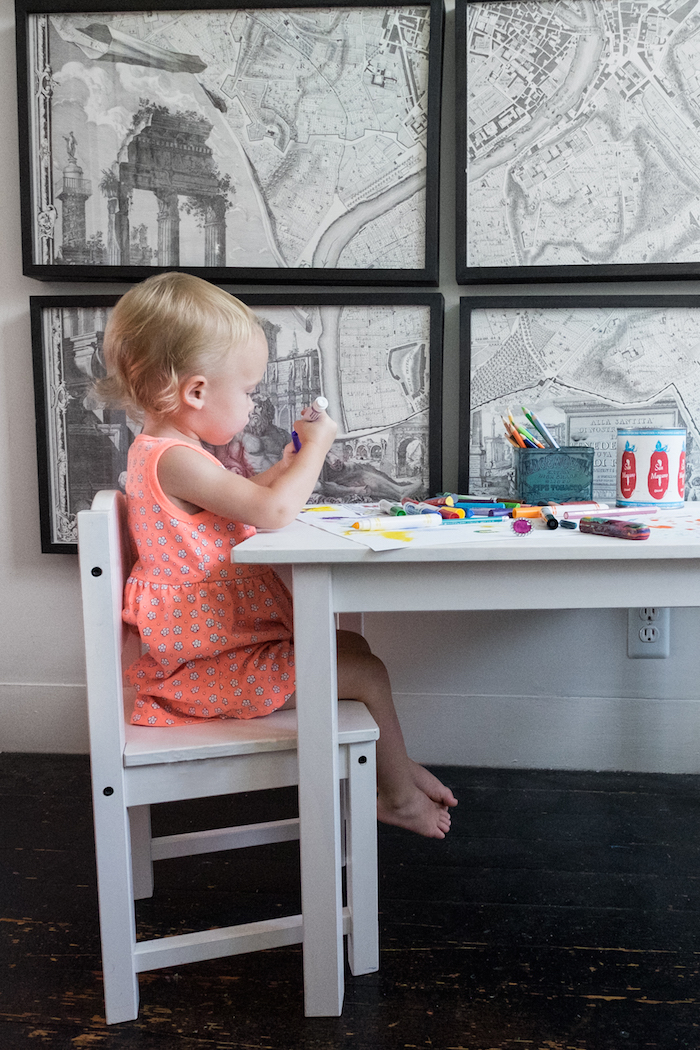 I tried not to fuss and perfect too much before Emily came over to photograph–I hope this comes across as a realistic tour, with our "lived-in minimalism" as Joe sagely put it.
Anyway, head over to the post to see the whole thing! Thank you Emily!
all photos by Emily Billings for apartment therapy.