This past weekend, I went away with some mom friends from my neighborhood. Joe volunteered to watch the girls, the very same girls who ended up being sick all weekend. Alas, poor abandoned family. At least I managed to pack the fridge completely full beforehand (bbq chicken, chicken salad, cottage cheese pancakes, hummus, hard boiled eggs, raspberries).
All the women on our trip have young children around the same age and are usually chasing children at the playground so what. a. treat. to have uninterrupted conversation and truly TALK to each other. I dropped in at the end of all the planning emails, so the rooms were reserved, most plane tickets booked, and dinner reservations already made. If you've ever been on the receiving end of females trying to plan a trip via email, then you know how nice it is to skip most of it and just show up.
I spent some time on Pinterest before we left so I had a hit list of South Beach places to see. Total side tangent: pinterest has become an incredibly effective travel itinerary guide. Personally I trace this back to their partnership with Foursquare which allowed them to pull all of Foursquare's user location-tagged photos. These days even the most wayward cute gas station is discoverable on there. I suggest it as a first stop when planning a trip, even before food review sites or magazines. Thanks to this helpful blog post, this interview by Garance Dore, and many enticing photos, I put together a list I was excited about. I ended up visiting only a few of those places, but I was happy to have options ahead of time. (If you're traveling to South Beach soon, here's the board I put together from these recommendations.)
I went out early one morning and watched as men from each hotel hauled out the beach chairs, then the chair pillows, then the umbrellas, tugging everything into even rows up as they went. The chairs spent the day as proud striped bandstands lined up across the sand, only to be completely dismantled and put away every night.
The water was extra-specially-blue and WARM.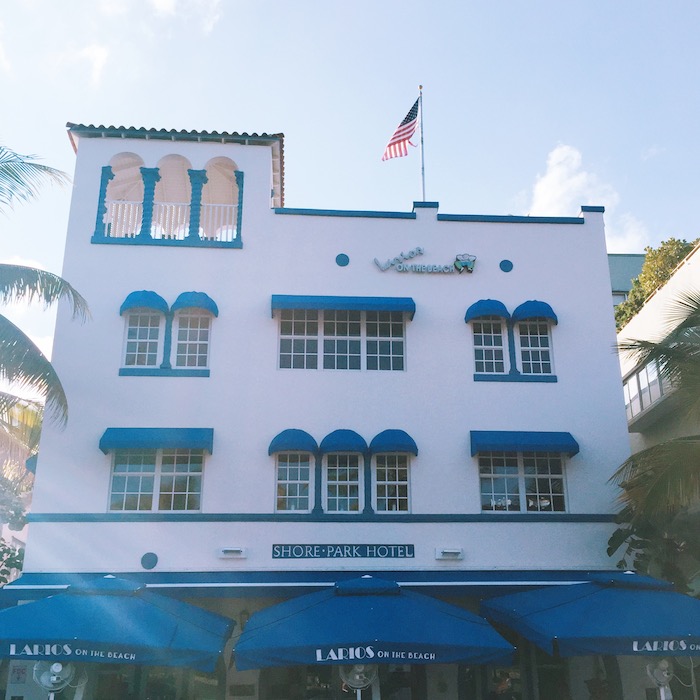 We stayed at the Ritz, which had wonderful service as always, and good food; though the style of the hotel wasn't at all beachy which felt like a missed opportunity, and the food was overpriced. However, their pina coladas were excellent and their beach-food-delivery was shockingly fast. The Ritz has the type of service where you might be sitting in a hot tub (a rather glorious thing one can do when not-pregnant, right?), wondering about how to perfect the situation and get a cold beer, and minutes later, someone hands one to you.
I had hoped to visit and take a long soak at The Standard's spa with their stylized ancient baths, but I called ahead and learned one needed to do a spa service for $135 in order to use the baths, which didn't feel quite worth it when I already had so many fun things to do.
Just a block or two down from our hotel was
The Raleigh
. Gosh what a wonderful treat to the eyes. I couldn't get enough of the spot. I guess I'm more of an art deco type than a sleek hotel type. We had breakfast by the pool there one day, and another day my friend Jenny and I just sat on the front porch and people watched while sipping the delicious smoothies sold through their diner-esque cafe in the lobby.
One hot afternoon after sweating in the sun for awhile, a few of us caught a cab down to
My Ceviche
for cheap delicious ceviche, roasted corn, spicy popcorn, and, if I'd only had room: a basket of stone crab claws. They don't have tables, but if you order a drink from the bar next door, they let you use theirs.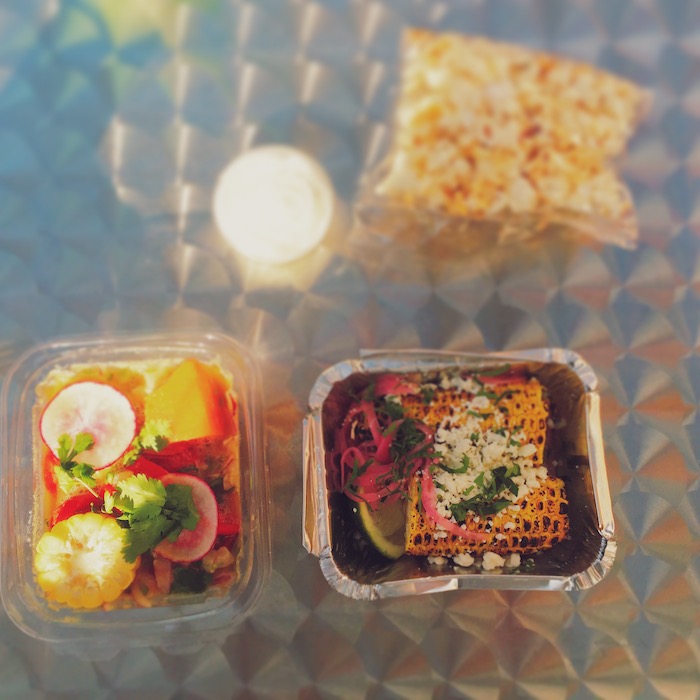 I personally didn't make it to Under the Mango Tree but I sent some friends in their direction and they loved it. A bit of a hole in the wall, but very friendly and delicious. Smoothies, breakfast sandwiches, acai bowls, it is a perfect destination after a long walk on the beach.
Our first night we had dinner at Casa Tua. This hip Italian spot felt very Hollywood, beginning with the tall hedge framing the whole unmarked restaurant. Gorgeous flickering lights and greenery welcome you in, once you finally find the entrance. Somewhat burly, hustle-y waiters frown when you ask for a custom cocktail. Amazing burrata and perfectly-done pasta, with a strong showing of seafood.
The Sandwicherie: I confess, I circled this place and but didn't eat there! It looked amazing and I love that they are open for 24 hours. I also love that (according to reviews) they drizzle vinaigrette on your sandwich. This spot was only a few blocks from our hotel, a great walk in any direction. I regretted that I didn't make it to any Cuban food spots, though I got the feeling I would have had to head back into Miami to find the good ones.
Thinking of our kids back home, all of us found ourselves watching the families on vacation around us. It seemed like a great spot for them. The sand was silky, the pool was warm, there was umbrellas and accessible food in abundance. Mentally I compared it to St. Thomas, though South Beach is definitely cheaper overall and with better food. For East Coasters, it would be about the same three hour direct flight as the Virgin Islands. Trust me when I say this is on my mind as I return to temps in the 30s here in Boston! Yikes.
Post script: even the H&M was glam: