I get a kick out of the girls sharing a room. We moved Joan into Lux's room when she was 8 months old, I wrote a little bit about that here. Even when they are keeping each other up at night, even when one of them wakes the other up pre-maturely in the morning. Sometimes the night ends with both of them grousing in their beds, egging each other on, louder and louder. I like it. Remember in grade school, what was the great uniting power ? A common enemy. Nothing to build sisterhood among two humans of disparate age and interest like grousing about the same thing.
There's power waiting to be taken in having a small space. Anyone can do it. You begin to take joy in every bag of things you decide to give away or throw away. The good stuff shines through. The girls have a small cabinet of additional toys, but their chief choice items, the ones they point at and ask for, are on this shelf. Having this stuff be out of their reach is as un-Montessori as you can get. Maria would shiver at the sight. I wish it wasn't the case, but I also find that the act of requesting something causes them to value it a little bit more.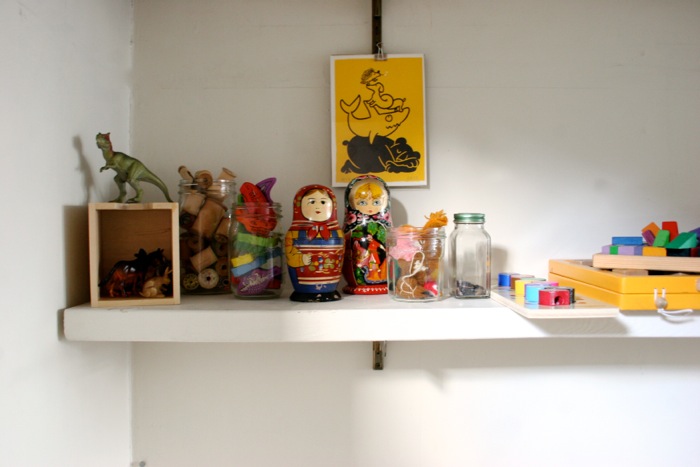 Note above my system for the girls' clothes, on the top shelves. It's one tub to every six months, with an extra tub for shoes and winter gear. Be sure to label them, and give yourself a month or two after they grow out of things before you pack them away. The time helps you truly evaluate the stuff and what kind of shape it is in.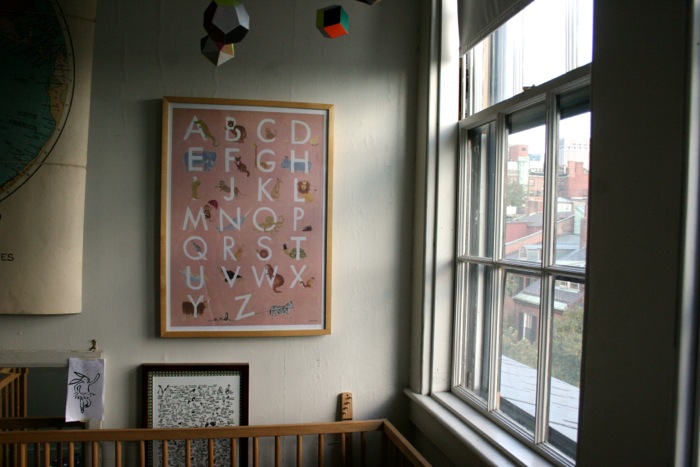 Of the things on the wall, the maps get the most attention. Though when Lux was younger, she adored that Rifle Paper Co. alphabet poster (I just checked to see if it is still available, it's not, but my goodness does Anna Bond have some good ones these days!). My older brother, who works in South Sudan, visited recently and pointed out that we need a map of Africa. He's right! Both of our current maps came from Joe hounding etsy for vintage school room maps (they are not cheap. they are so worth it.) The New Yorker cover is a recent resurrection of a Saul Steinberg drawing combining several of Lux's favorite things: skeletons, ballerinas, and mice. We are happy to change things out as the girls have new interests. Joe often places nice wrapping paper behind a print as an easy and cheap mat job, and we frequently use Ikea frames.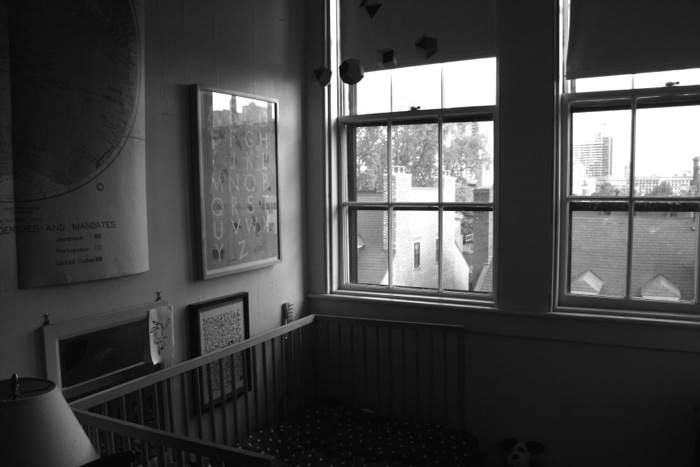 I'm happy to have these photos to document this tiny phase in my family's life! I'm sure the place will transform in the next year, perhaps even in the next six months. The room I shared with my sister as a kid is so etched into my visual memory, I treasure those images. I want to remember Lux looking out her window for the moon each night, I want to remember finding Joan with a pile of toys in her crib in the morning, donated by her benevolent sister, I want to remember Lux telling me that bunny lives in Mexico and her hunting for all the "x" letters on the map, I want to remember their matching cribs and orange-striped sheets and how content they were with them.