Cambria, Boston Calling, Weekend!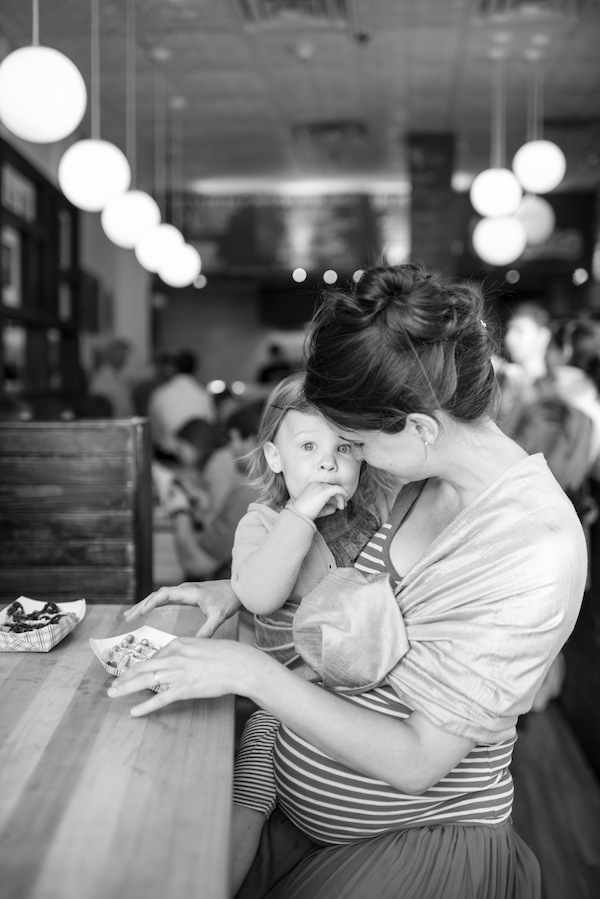 snacking on waffles at Saus
Next week I'll be posting another Sakura Bloom Sling Diary. I've just realized I haven't really explained what that is: the Sakura Bloom sling is sort of like the BMW of the baby carrying world–simple, classy, and high quality. They make slings out of pure linen or silk in gorgeous colors (they're also designed and made in Massachusetts, win). They've done several rounds of selecting a dozen or so moms to show how slings fit into their lifestyle; a good excuse for a lot of cute baby photos, essentially. We don't get paid, but we do get two slings for the photos, for free. One of my favorite bloggers, Che & Fidel, was a sling mama. This round, the moms are a fascinating bunch, from all over the world. I learn so much from just looking through their photos of life with children.
But next week's photos are extra special because I met up with a Boston photographer to do them. Cambria and I met at blogshop back in February. I thought she was hilarious and then I went home and saw her stuff and realized the talent that had been sitting next to me. We spent an afternoon wandering around Haymarket and I can't wait to share the photos on Wednesday. Meanwhile, check out her blog to see behind-the-scenes photos of her adventures around Boston.
Happy Weekend! We'll be at the Boston Calling concert on Sunday–most of the time with Lux, and a bit without. I'm excited for all the bands, but most especially Andrew Bird. And The National of course (but I find them a little dark at times).
I hope some of you are actually getting a THREE day weekend too! Does anyone have favorite Memorial-Day-in-Boston activities? Parades where each float is required to throw you candy?