a no-drama guide to bullet journaling
When I realized my friend Kate was three years into her bullet journaling habit, I couldn't resist asking her to elucidate her method and approach for us. There's something truly remarkable about mixing the daily practical schedules of a mother, a devoted school librarian, and an ambitious household manager alongside the grander schemes of a young woman's mind and the interests of an omnivorous pop culturist. I loved getting this peek into the inner workings and I hope you do too. 
by Kate Bowman-Johnson. Photos of Kate's journals by Leah Hood. 
Recently, in the middle of an intense counseling session, I found myself breaking out my planner: Exhibit A.
"This is what it's like inside my head all the time," I told my therapist. "There's no rhyme or reason, half of it's indecipherable, there are pages of incomplete tasks, and there is a lot of space devoted to bad television."
She flipped through the journal slowly. "Okay," she said, "but I also see illustrations by your kids. There's some beautiful art in here. I see a lot of tasks crossed off. I see smart workarounds, sermon notes, and a list of what's making you sad. It seems like this journal helps you manage your mental health in a productive way. I don't look at it and see someone who's failing."
Well. A more on-the-nose introduction to this piece I could not have dreamed up. Fellow havers of mom-brain and assorted mood disorders: welcome to Bullet Journaling as Therapy. Less a fun tutorial, more a reflection on how a book and pencil saved my sanity – and just might save yours.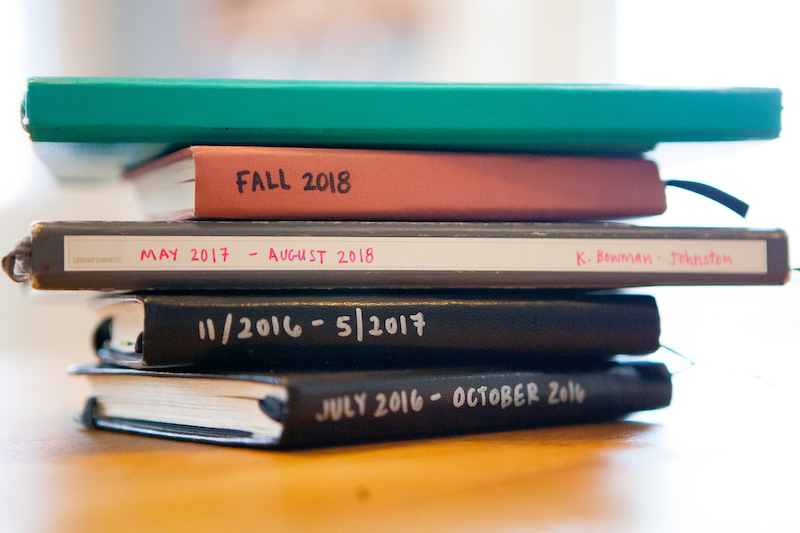 I started bullet journaling three years ago during a particularly busy season in my life. I had two young kids, I was a year into an exciting but whirlwind job, and I was actively fighting depression and anxiety. I kept forgetting important dates and dropping the ball. Post-it notes were stuck to every surface. I had three different Google Calendars, none of them synced. Sometimes I would write things in a Moleskine, then lose the Moleskine. It was bad.
I don't remember exactly how, but I stumbled on a video about bullet journaling from the method's creator. It immediately hooked me because of its simplicity, adaptability, and clear organization. I liked the balance between freedom and structure, two poles between which I'm constantly pulled. It seemed just the thing for someone like me, who's equal parts fastidious and forgetful, creative and downright lazy.
So I grabbed a small notebook I already had on hand, watched some more videos, read some more tutorials, and set up my first bullet journal with only a Ticonderoga pencil in hand. (As an educator, I'm here to tell you that no other pencils need apply. Some things are worth the brand name.)
Three years in, bullet journaling is one of the few things in the universe that has not only lived up to the hype, but proved sustainable for me. It's transformed my busy life and busy brain. It's a way to self-soothe when I feel like things are falling apart around me; if I can capture them in the moment on paper, they're not so daunting. They're contained, yet accessible at all times. Mischief managed.
Since I began in 2016, much has been published about bullet journals and their Pinterest-ready cousins, dot journals. There are endless articles about how to set up your journal and embellish your journal and invest your fortune in stencils and washi tape. Such tutorials have been very useful to me (this one by Rachel Wilkerson Miller is the gold standard, if you want to familiarize yourself with the basic tenets, and I also like her book Dot Journaling: A Practical Guide), but the market is saturated. Instead, I hope to share a few guiding principles for people who are looking for more than just, as Rachael so aptly put it, a "relentless to-do list" – but may feel overwhelmed by getting started.
Flexibility is a feature, not a bug. Since you create a bullet journal by hand in a blank book, one page at a time, you can do literally whatever you want. Which is terrifying for someone like me. There is nothing I like more than following rules (Enneagram 6!), so I've had to push myself to bend and break them – but mercifully, journaling is built for that. For example, I used a weekly spread for months before I realized it was stressing me out and got rid of it. The world did not end; my process just got more efficient. Similarly, you're not "supposed" to set up dailies ahead of time – but making a new spread once a week isn't realistic for me. I make them all at the beginning of each month and I don't feel bad about it, because it works. Meanwhile, all of my sections are interspersed with the weird art my kids make while waiting at the doctor, random lists, recipes, project-planning spreads, etc. There's no BuJo police and they are not coming for you. Do you.
Keep the 'gram at arm's length. The internet is full of talented folks with gorgeous BuJo spreads and a lot of time on their hands. Their work is informative and inspiring, but take it with a grain of salt. Your bullet journal does not need reams of watercolor landscapes or brush lettering to work for you. Minimalist journaling is its own subculture, worth investigating if you get turned off by the fancy stuff. Personally, I check in on a few noted journalers once in a while if I'm feeling stagnant or need specific layout ideas. But by and large, I try to view those accounts as pure eye candy – not an indictment of how much I suck at planning and/or art. My own journals run the gamut from painstaking brush-lettering to hastily dashed grocery lists; it all depends on how much time and energy I have on hand.
Let accessories take a backseat. I know it's tempting, because there's so much cute stuff out there, and it's so cheap on Amazon. As someone guilty of buying up hobby gear only to abandon it two weeks in, I forced myself to try bullet journaling for a whole month with only the resources I had on hand (journal, pencil). Then, once I had a better idea of how I was using it, I invested in a few simple tools: a small metal ruler, reusable page markers, and erasable pens. Years later, I'm the proud owner of some Tombow brush pens and layout stencils, but I usually default to a simple approach because it keeps the focus on the content.
Find a balance with digital tools. When I upgraded my phone, it had an unexpected effect on my journal. I found myself abandoning the habit trackers that make dot journals so pretty, but they had become superfluous now that I had apps. Clue hacks my cycle; YNAB tracks expenses; Noom covers nutrition and exercise – so those stay in the cloud. On the flip side, I still put TV shows I'm watching in my journal (I'll explain why in a minute), and I also meal plan on paper. The only things I duplicate are calendar appointments – hand writing them sears them into my memory, but I also need those automated pings and dings from my phone – and my reading list, which I keep on in my journal as well as plug into GoodReads. Otherwise, the division of labor is pretty clear. Don't make your journal work harder than it needs to just for the sake of looking impressive!
Write it all down. One of my favorite BuJo functions is that of a lazy diary. When we're on vacation, I summarize each day's highlights, as well as recording impressions from daily life as I feel the urge. Samuel Pepys I am not, but I do like having a record of what I was thinking or feeling at a particular moment. When my kids ask about an event ("when did I find that dead mouse in the bathroom?" was a fun one), I'm just as likely to flip through old bullet journals as I am to scroll through my Instagram feed to track it down. This is also why I write what I'm reading and watching and listening to – they're snapshots not just of the media I consume, but landmarks in time. Nothing is too big or too small to diarize alongside your to-do list, because it all creates opportunities for reflection later on.
It's okay to be aspirational. Listen. I'm sitting here telling you to be cool and not overdo it with your bullet journal, when I know full well this book sitting right next to me is slathered in washi tape and spreads designed by a professional artist and all kinds of pretentious shit. The old journals piled under it are filled with trackers I made with high hopes of developing life-changing habits… then abandoned. It's all part of the process. A few years back, I hosted a lengthy bullet journal discussion thread on my Facebook page, in which several friends noted with envy my list of daily and weekly chores. I assured them that said chores were ambitions, not realities. I record lists like this so that I don't waste time dithering around, wondering what to do and where to start, but so that I have something concrete to tackle when the opportunity arises. Indeed, a bullet journal can be as spare and minimal as you want – but if filling it with designs or itemizing your dreams in a spread brings you joy, go for it.
The takeaway here is that a bullet journal is not a magic, er, bullet. It will not effortlessly transform you into a totally organized, together person. Like most things, you get out of it what you put into it. If you're looking for structure with a dash of free will, if you need a home for your fascinations and foibles and lists titled "Where Did I Hide That Thing From Myself," bullet journaling is a good place to start. If nothing else, you can use it for show and tell at therapy.