glamp more; White Mountains, New Hampshire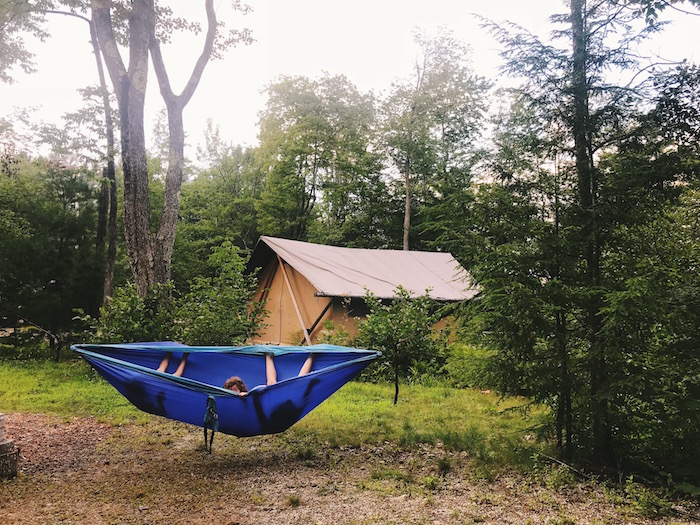 A few notes on our wonderful time as guests of Huttopia–they offered us a tent for free and we paid for a second one for Joe's parents who came with us. There is so much elegance to this crisp camp set on a former Boy Scout campground. That may be because the company is a French one, and they have their method down pat. So much so that there were many European and Canadian visitors at the camp with us during our time. In talking to one fellow camper, I learned that Huttopia has something of an enormous following in Europe and is effectively a lifestyle brand there. So it's pretty fun to encounter their first USA location in New Hampshire.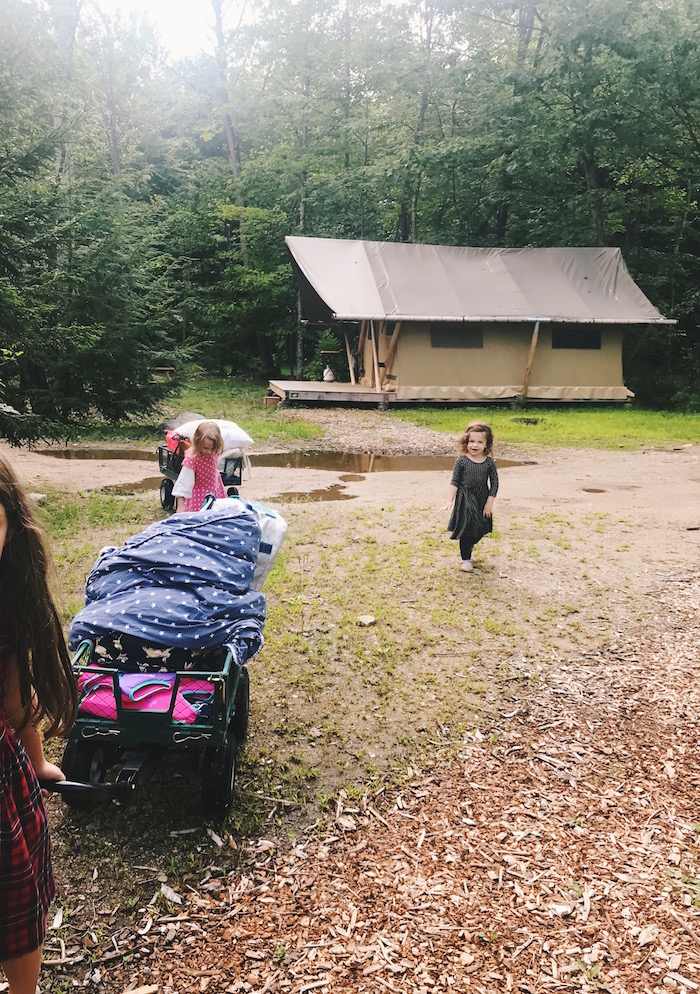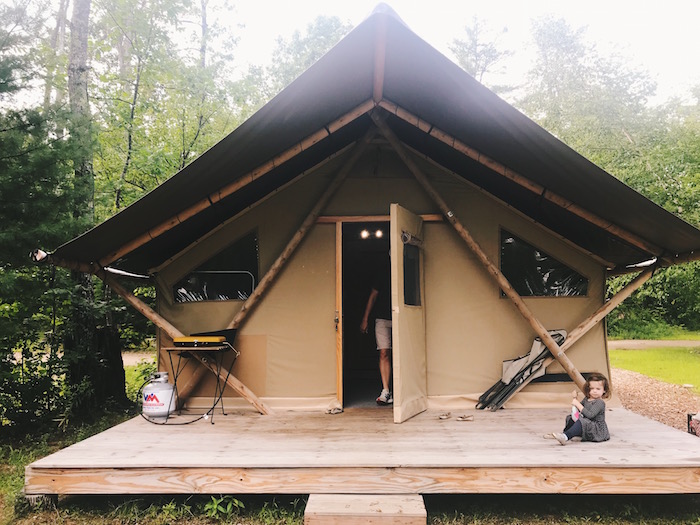 Sleek tents, tidy campsites, a pretty and warm swimming pool, a generously stocked camp store, and fun daily activities for kids. I didn't grow up camping, but my best friend did, and I always enviously listened to her stories of cavorting around the campground nearly parent-free for the week. At Huttopia, I totally got a sense of that freedom for the girls. Because there were no cars allowed at the campground beyond the parking lot, they felt free to roam the roads. They liked walking to the playground on their own, and getting sent on errands to the camp store. And they LOVED the evening showing of Moana on the baseball field that got a sprinkle of rain, the better to cuddle under their blankets for. If we had planned the trip with a couple family friends they would have had a blast just running to each other's campsites and checking in.
Joe keeps a hatchet in the back of our car (such soccer moms!) for all our fire needs, so he can make spiffy designs like this on the go. The Huttopia camp store sells firewood, but unfortunately the firewood for sale when we were there was not aged enough and did not burn well. We recommend picking some up on your drive, nearby grocery stores stock older wood.
That flip-grill thing is on all the fire pits and is genius. Love it. Practically eliminates the need for cookware over the fire.
Diana's Baths nearby is an easy (and extremely popular) adventure. The trail to it is practically stroller friendly. For two year olds it takes one adult with them at all times as the rocks are slippery, but for ages five and above, there's lots of independent play to be had.
A few items I might suggest you bring along:
-your own pillow, always a nice luxury
-coffee ground for a French press (the press is provided)
-a tea kettle–just easier to deal with than a pan
-fan, in case of hot & humid temps
-bug spray for the evenings after dark
-cozy food supplies, like bacon, hot coco mix, wine, and these all natural cheetos rip-offs that I find to be insanely good.
-fire wood, see note on this above
-it always pays to bring your own hammock, we have this brand and bring it everywhere!
Some of you told me you were going after I posted on instagram that we were there, how was your trip?