"Yes but even 4 business men can't poison God's sunlight." –ee cummings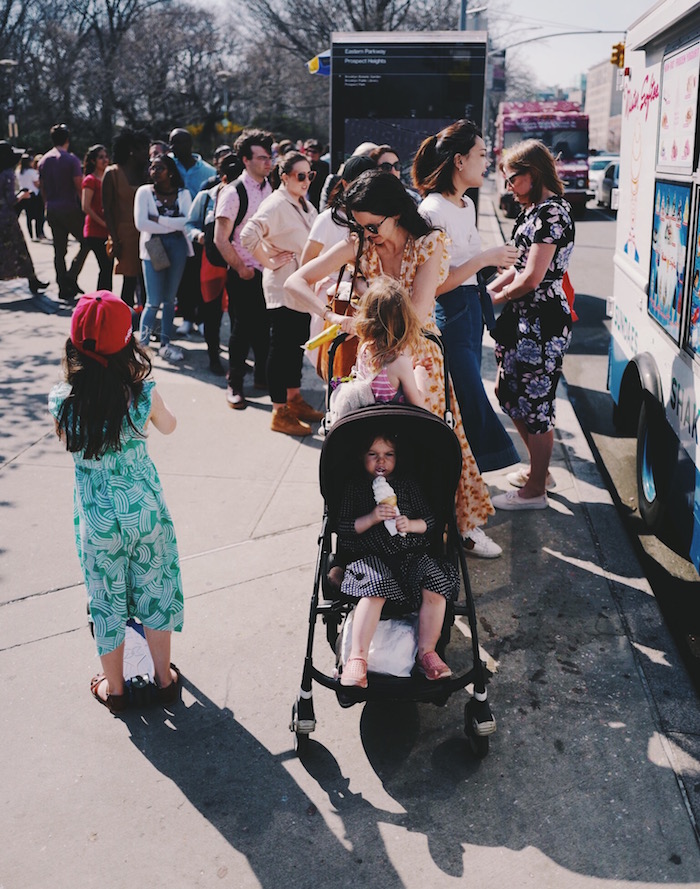 This weekend I put the girls in the car after a full day of school and after-school mild weather frolicking (ice cream, winter grass). We were driving to Brooklyn, I had preloaded all of their ipads for the five hour drive, and packed a lot of hardboiled eggs and dried seaweed snacks. Joe had a weekend in New Hampshire planned and I was up for the adventure.
My recent favorite ipad discovery is that Youtube allows you to download any video for off-wifi viewing. Lux adores all of the TedEd videos so hers was full of those. I like to put a medley of Joan's interests at age 4.5 on hers, so she had:
Alma has an ipad as well. At age 2, it is a close to useless as it gets, mostly frustrating her and making her grouchier than she would be if she were just looking out the window. I give her the oldest one we have anyway because I do nearly everything 3×3.
We went to see my brother and his girlfriend who live in Williamsburg and another brother of mine who is soon moving to Crown Heights with his family. We stayed together in an old brownstone that was gorgeously antique, if a bit oddly laid out. Because we stayed together, we could still enjoy vacation things like letting the girls sleep in while my sister-in-law and I talked quietly in the kitchen, or putting them to bed and sharing a bottle of wine in the middle room late into the evening. While in town the girls and I finished reading these kid-friendly biographies on two amazing women that I had brought along: Elizabeth Blackwell and Rachel Carson.
Walking around Prospect Heights and Crown Heights I was a little in awe. It was the first sunny day in a long time (I saw someone on Instagram call it the great thawing of Brooklyn) and there was liveliness everywhere. The sidewalks were so wide, the coffeeshops were so cute, the bagels were so chewy. There were artists painting murals around construction sites and the playgrounds were full of happy kids sharing swings. There was giant line outside the Brooklyn Botanic Garden (always nice to see an epic brunch line outside of a garden).
Despite all the things you already know about New York from the movies, the cliches, the postcards, it still strikes you, and you're tempted to murmur to yourself the greatest city in the world. At the same time, I'm still stunned that my brother has made his life there for the past seven years, and that now another of my siblings will live there.
Traveling with the girls alongside my brother who doesn't have children and my other brother who has a well mannered two year old, I was reminded of how kid-centric I allow our days to be in Boston. The girls were slightly affronted when the entire itinerary wasn't about what they wanted, and downright shocked when I was clearly more interested in adult conversation than their insights about the sidewalk. Although it works well for us at home in general, I would like to be more candid with them about how many things in which they are simply along for the ride. My and their understanding of how this should look is certainly a work in progress.
On our way home on Sunday it was blustery and cold again, but we stopped for a house salad and pizza at Grace Farms anyway. It is such a beautiful and unique spot, I love to see it in all weather conditions.