Drafting an advent calendar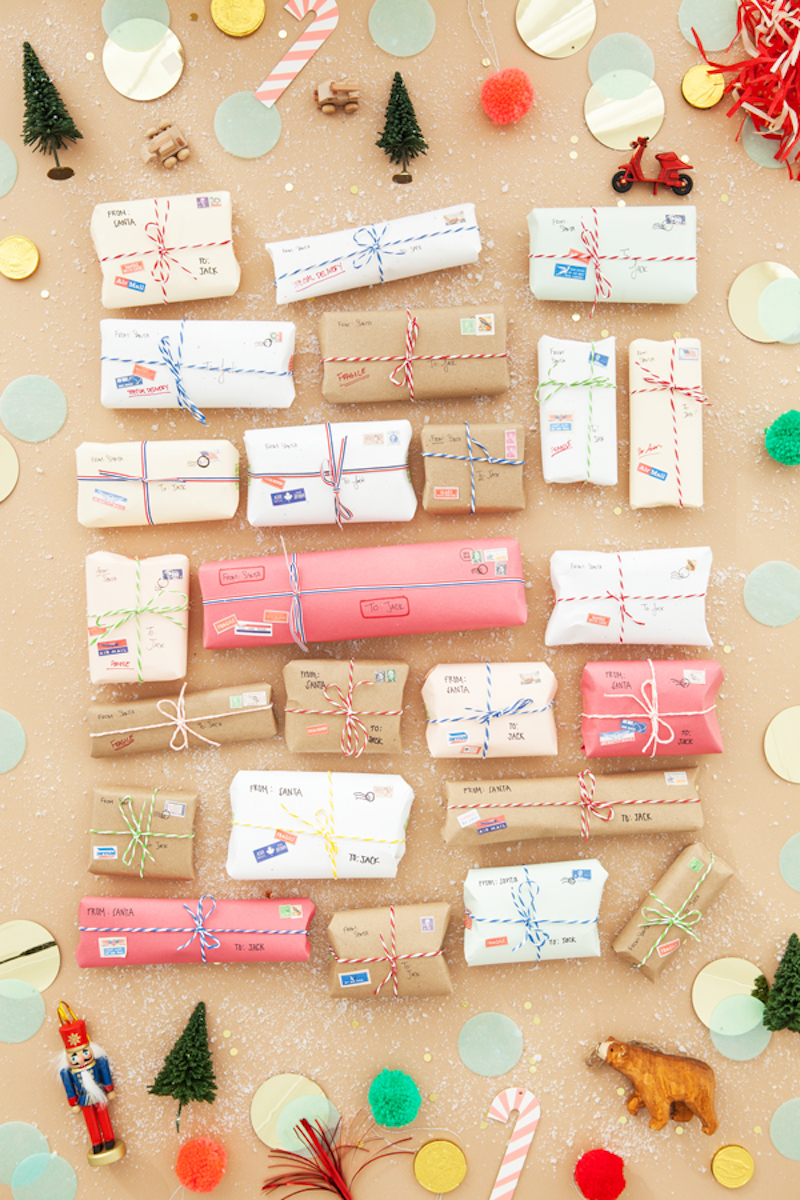 Alongside the tiny-door cardboard calendars for the girls, this year I'd like to do a book calendar to mark the passing days of December. Unwrapping and reading a favorite book every morning sounds lovely. I first encountered this idea on Andrea's bookscout blog two years ago. I'd love to wrap them up this way created by Oh Happy Day, pictured above. Brown paper book packages tied up with string.
Last year out of the twenty or so holiday books we checked out of the library, I found twelve favorites that the then-four-and-two year old loved (that means I need to come up with thirteen more!). I look for books that have detailed illustrations and writing that hints at even more of a story than it tells. All of these have that!
Here are last year's favorites:
Christmas in Noisy Village, Astrid Lindgren // by the author of Pippi Longstocking, enchanting stories that portray life in a tiny Swedish village. Three small neighboring houses celebrate together, bake gingerbread once a year, and expect bright new rag rugs on Christmas Eve. It's a peak into some amazing traditions that you'll want to copy. amazon
The Tomten, Astrid Lindgren // This is a book that should be creepy but instead it's calming. Last year it really spoke to two-year-old Joan. It's quiet story about a tiny elf that wanders around a farm and checks on everyone who is sleeping. It's not particularly about Christmas, more about quiet winter nights. Joan spotted these sweet Tomten ornaments in a catalog and I couldn't resist getting them for her to accompany the story. amazon 
The Christmas Party, Adrienne Adams // I feel that Wes Anderson must have used Adams' illustrations as inspiration for some of his own characters and dialogue. These trim and buttoned-up bunnies are so charming. The rich pastel colors are a break from the REDGREEN illustrations of many Christmas stories. amazon used
The Year of the Perfect Christmas Tree, Gloria Houston // It really doesn't get better than Barbara Cooney illustrating a snowy mother & daughter tale set in Appalachia. If your town has a Christmas tree, time the reading of this book with a visit to see it. amazon
Mr. Willowby's Christmas Tree, Robert Barry // a rhyming romp, fun to read, plenty of critters scattered across the pages, and the moral of sharing the season. "Mr. Willowby's Christmas Tree came by special delivery…" amazon
The Night Before Christmas makes for fantastic reading aloud no matter, dare I say it, how many times you're asked to read it. The poem is packed with vocabulary words and simply by reading it I feel like I'm introducing the girls to our rudimentary American approach to Santa. Two favorite illustrated editions of mine: by Roger Duvoisin or by Holly Hobbie.
Joy to the World, Tomie dePaola //  gives children a peek into some of the Hispanic Catholic background of our traditions, like Poinsettias flowers. DePaolo's illustrations so soothing and cozy, yet artfully Romanesque. amazon
The Jolly Christmas Postman, Allen & Janet Ahlberg // I submit to you that you'd better buy this one, and you may have to re-buy it after a time, because those letters are just too fun for children to keep them in one place! amazon
Letters from Father Christmas, J.R.R. Tolkien // Though Joe read this one as I kid, I don't know how I managed to miss it! A collection of illustrated letters that Tolkien wrote to his children for over twenty years. swoon. Please note: buy the 1999 version that I've linked to, or a much older one. There is an edition from 2004 that omits many letters and abruptly cuts off others–outrageous! amazon
The Littlest Evergreen, Henry Cole // A story told from the tree's perspective: too little to be cut, he is instead dug up and brought inside, only to be planted after Christmas. He has a long life alongside the family. We loved the forest illustrations. amazon
Two wordless tales: I find that children love wordless books because it makes the reader-adult talk so much more!
Don't Forget Me Santa Clause, Virginia Mayo // a little boy who notices his crib was skipped by Santa, so he tags along to the North Pole to get his due. Warm cozy illustrations and good for houses with sibling babies. amazon used
Peter Spier's Christmas // Peter Spier's spirally sketchy warm fuzzy spilling-over-everything illustrations are so amazing. The holidays in this book are not tidy, but rumpled and doing the best they can. amazon
Please share your favorites, I would love to check them out!