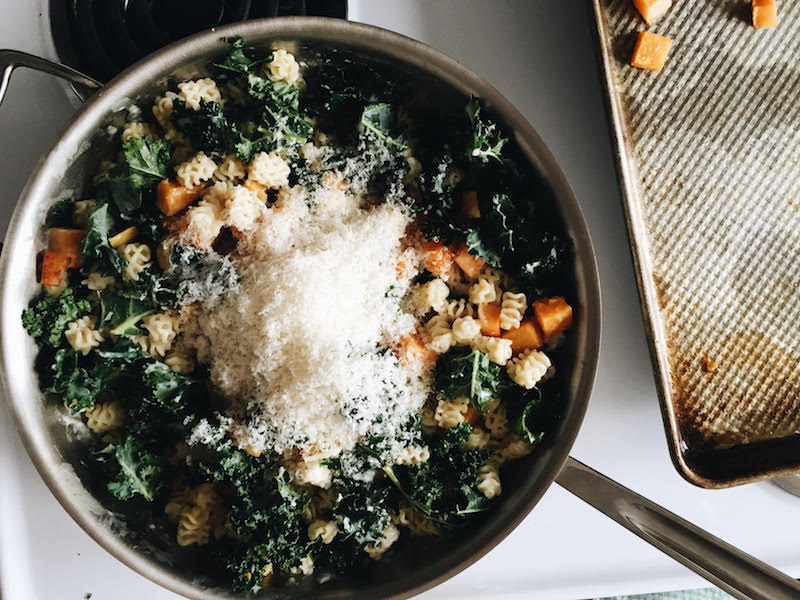 My friend Jenny dropped off this dish after Alma was born and I've made it a few times since then. It looks very innocent in the pan but then is dynamite once you begin to experience it. Much like a baby, really.
I could be posting about pink rhubarb or pale green asparagus or blanch white parsnips or some other spritely spring vegetable; but I'm still in hardy-winter-veggie mode. Kale and squash! You could accidentally drop these troopers down a flight of stairs before cooking and they'd be fine, if not improved by the bruising.
Jenny got the recipe from the blog Alexandra's Kitchen but she adds roasted butternut squash to it. This is an extra step that totally pays off in flavor. I'm becoming one of those grown ups whose eyes widen in pleasure at the sight of caramelized squash (the ticket to a faint caramelizing is not to toss them when they are roasting).
It reheats beautifully in the microwave and I love the idea to line the pan with parchment. I'd never done that with a casserole–it makes it easy to move the leftovers to a new dish.
squash gratin
3/4 lb pasta penne or whatever (I use 1lb–the whole bag)
4 Tbsp butter
1/4 cup Flour
2 cups Milk
2 cups water
3 cups butternut squash cubes (I peel and chop up a whole squash)
1 1/4 tsp kosher salt
black pepper
8oz kale stems removed and chopped
1.5 cups grated parmesan
1 cup fontina or mozzarella diced into cubes
Preheat oven to 425. Roast squash cubes with olive oil, salt and pepper for 15-20 minutes.
Bring a large pot of water to boil. Add a tbsp of salt. Boil pasta for two minutes less than the box's suggested al dente time. Drain, do not rinse, set aside.
Melt 4Tbsp butter over medium high heat in a medium saucepan. Add flour, whisking constantly for one minute. Add milk and water, whisking to remove any of the flour-butter mixture from the bottom of the pan. Bring to a boil, then reduce heat and gently simmer. Add 1 1/4 tsp. salt and pepper to taste. Simmer until mixture thickens for 20 minutes or less. Remove from heat.
Chop kale into small pieces. Toss pasta with the bechamel sauce and grated parmesan. Fold in kale and squash.
Line pan with parchment paper and spread pasta on top. Distribute cubed mozzarella on top.
Bake for 25-30 minutes until bubbling and golden.