What to Pack for the Baby
This is just a silly easy post to write! But it's still useful to keep a list around.
What we packed for Alma for her six-week-old vacation: 
a sun hat (mostly useless, poolside umbrellas were a must)
a swim diaper (ended up keeping her out of the sun/water altogether)
two blankets (one warm, one light)
diapers (forgot wipes and bought them there instead)
single-use packets of formula, a bottle, two pacifiers
a warm sweater
two carriers, one nice, one form (see below for detail)
a scarf to drape for nursing privacy or block the sun or for warmth
fun summery clothing inherited from her sisters!
I like to use a form carrier, like the becco or ergo, in airports. You can leave it on through security and my girls often napped in it right up until we sat down on the plane. They ask you to take it off before takeoff.
And I like to use a sakura bloom silk sling, especially in restaurants or going to events, or generally when I'm not trying to lift children/grocery bags/walk long distances.
Alma's hotel sleep style:
Mostly she slept like this on our bed because I found the condo crib too deep to be useful–all that bending over and reaching! She is the first baby of mine who likes swaddles, this is my make-shift way of swaddling her. A week after taking this photo, I realized I could simply tie the aden + anais blanket and skip the binder clip altogether. At a second hotel I didn't even ask for a crib, and used a couch cushion as her bed.
Flying with Alma, I remembered how delightful it is to fly with a baby that age, compared to say, a nine month old. They just curl up, nurse, and keep you company. Of course I had my corner seat to nurse in, with Joe and Joan as my bolsters (Lux was across the aisle, with strangers). I have nursed from a middle seat, with strangers on both sides, it is doable but it's awfully nice to have a row with your people, if available.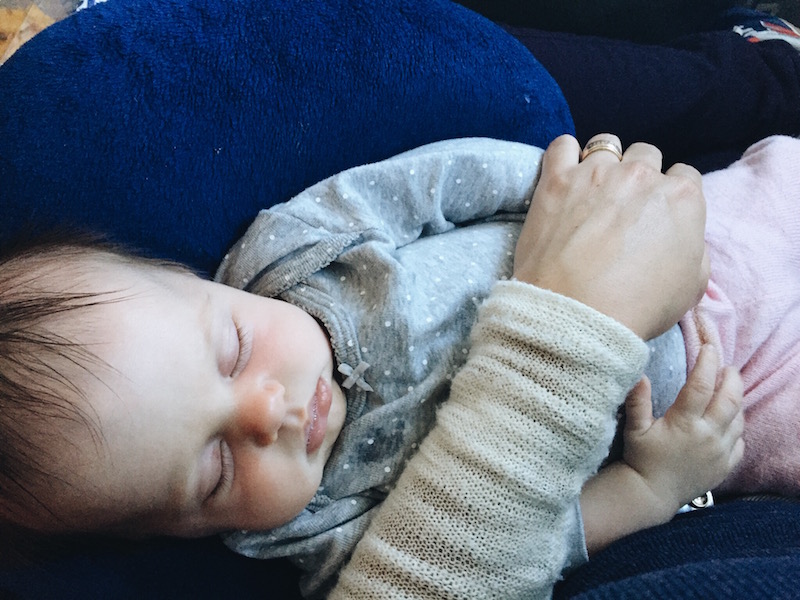 No matter what seat you are in, bring one of those airline pillows that don't actually do anything for adults; the ones you can buy in any airport gift shop. They work so well for infants. It is my favorite thing to rest her head on that instead of my balanced elbow or propped arm.