me, you, and everything we want
It's easy to tack Brimfield dates onto a map of our marriage and recall the phases we were in at the time. How you shop together as a couple is always a relationship barometer. In the realm of your standard shopping trips–in which grocery shopping is probably the easiest category–there's IKEA shopping. IKEA has a bad name, for reasons that I believe link back to the way they bait you into walking through their entire inventory. Then there's clothes shopping, in which you always reveal more of yourself and your fears than you intended to, because you're trying to ignore your fears and pretend they are not there with you in the dressing room. That's a tough one too, but usually at least just one of you is making the decision, and the other one is trying not to stare at the clock in bewilderment.
But Brimfield has always meant shopping as a couple, making decisions as a couple, giving each other the side eye, as a couple.
First year: shopping as newly married, looking for a few pieces to prove we could buy things together and that our apartment had character. Second year: shopping as new business owners, hoping to find pieces that could frame our little market and bolster it. Third year: shopping as we were pregnant, hunting for the perfect old crib that would fit our tiny apartment, or the right artwork that would represent everything we hoped for the new babe. And so on, until what is now our sixth year, all so known as: yesterday.
We had something of an argument a few nights beforehand when we tried to lay out all the things we expected the other to do. I expected Joe to present me with things he didn't actually really want, and wait for me to say why we didn't need them. He expected me to be a naysayer, and talk us out everything, including the exact things we needed. I expected to feel overwhelmed by the options and revert to strictly window shopping, and then feel a wave of buyer's remorse as we drove away. We hashed this all out and felt much better. It was very adult, and my, how much we know ourselves now don't we?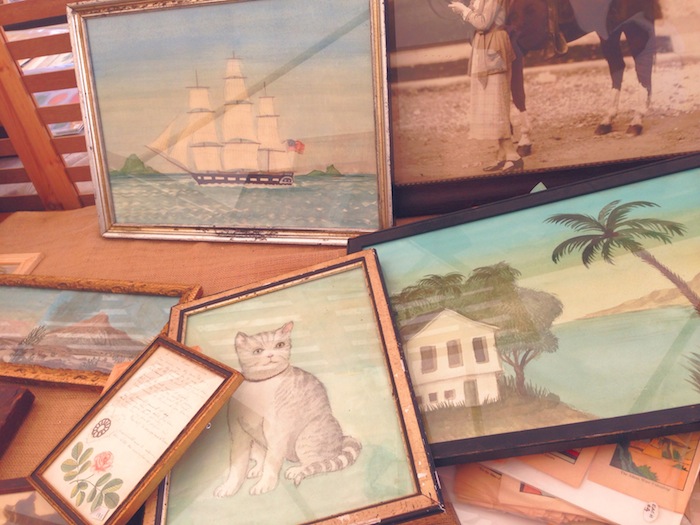 But, as it turned out, this edition was much more about the fact that we were shopping, really and truly, with two kids. The children were not as taken with the affair as we expected—the big tents, their posts sunk into mud, their interiors filled with untouchables. The strange chilling breeze that alternated abruptly with a blazing May day sun. Joan hit her whining pitch early and stayed there, and I had no idea what was wrong and evidently, no satisfying solution. Lux was under-dressed for the cold breeze and curled up in the umbrella stroller like an unfurled butterfly, coldly staring back at cooing passerbys trying to say Hi. I saw things–gold bracelets! quirky watercolors! a rack of cardigans!–that I wanted to examine at leisure, but as soon as I paused, I felt the tug and whine to keep moving. Joe tried on a vintage plaid while Lux murmured complaints in the background at a dull roar. We looked at each other and muttered "mutiny."
Had the threshhold been reached, I wondered.  Were we ignorant to gaily attempt this affair–so blithely executed by the hipster couples toting antique tin wash boards back their cars (yes, I really saw them)–as a young family?
Somehow it turned around. We went back to the car for our trusty larger stroller and popped Joan in it, with a bottle. I took off my sweater, put it on Lux, and zipped her up in the vest she had refused earlier. I revealed to her a few of the secrets that had kept me walking so far–the prospect of lemonade slush and a fresh crepe. Her eyes widened and she agreed to continue hunting. Once she was walking by my side and outside of the stroller, she and the shopkeepers struck up an easy relationship. They slipped her tokens from their tables and dug through their piles to find prints of dogs and cats. The fields were full of puddles from the morning's downpour and she was wearing her rain boots. Joan was shielded from the sun and actually kicked with glee when she caught my eye. We found a bag of wooden bobbins, some clothespins to turn into little people, a small metal toolbox for craft supplies, and a large metal trunk from India to holding the steadily-growing pile of dress-up clothes in the girls' room.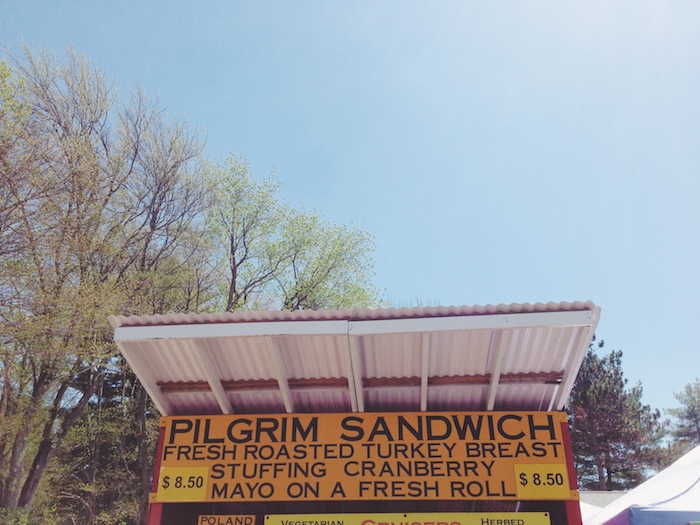 And I was so happy to have a child old enough to share my favorite foods. Brimfield is as much about the food stands—like a state fair, but with better food—as the antiques. It's a vanity, perhaps a lunatic one, to pat yourself on the back that your child likes the same food as you when it's fried dough and kettle corn. Nonetheless! There's a thrill when you can nod with them and say "Right? It's so good."
Brimfield is an enormous antique fair in Western Mass that takes over grassy fields in the spring and fall. Here are a couple posts from others, with better photos than mine, if you're curious for more: 1/ Design Sponge 2/ A Continuous Lean 3/ Soule Mama