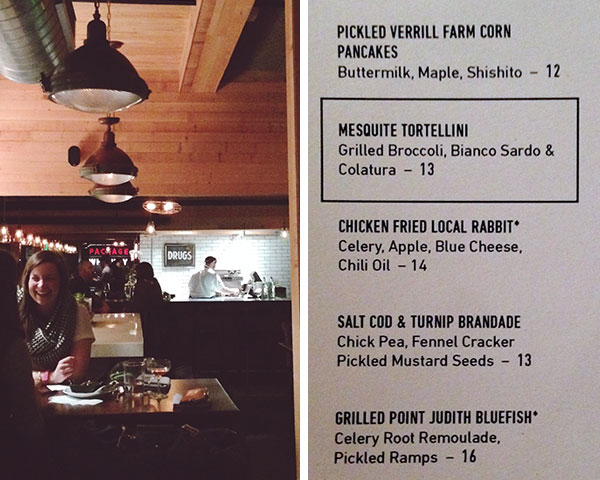 It's a treat to visit a place you've been watching from afar. I saw Alden & Harlow, a new restaurant in Harvard Square next to Brattle Theatre, photographed on a thought for food, and then thoroughly written up on tiny urban kitchen. Between the two of them, and this Boston Magazine post about AH's cocktail menu, I was positively desperate to check it out. Fortunately Natalie and Anna are always game to visit new spots and we got a date on the calendar quickly.
What is really fun about the menu is the fact that everything is a small plate, but very shareable and priced well. Three of our favorites–the kale salad, the butternut squash salad, and charred broccoli (with squash hummus!)–were priced at $9 and completely divisible by three. In all, we shared eight plates, including dessert. It was so nice to get to try so many flavors–especially when each plate was packed with different textures and tastes–nuts, seeds, oils, yogurt, seasonings of all varieties. The flavor medleys matched our conversation as we found ourselves talking almost exclusively about travel–past trips and future dreaming. Natalie, just back from Thailand, is planning trips to Turkey and Argentina. And Anna has a nearly perfect West Coast trip just a month away.
The service style is spot on–no rush to continue ordering, we were encouraged to just enjoy and relish, and order more as we wished. The cocktails are wild–local, extremely seasonal, and unlike anything I'd seen. I hesitate to recommend a specific one for you, but I will tell you not to miss the house bitter with your dessert.
One last thing–I couldn't believe how good the chips and dip where. You'll hear from everyone all about their salads and amazing veggies, but I love a good chip & dip snack and this three-onion-dip was delicious and the chips were so crunchy and fresh. Best chips, best dip, respect for that.