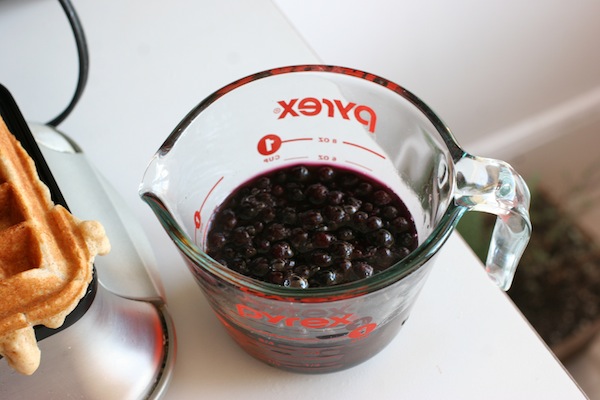 Making waffles for your household is a handy habit because they refrigerate well and they freeze very well. They are quite filling and you know exactly what went into them. I was raised to put peanut butter and cottage cheese on my waffles–sounds crazy but it is a remarkably balanced carb-protein snack. If you're in the market for that kind of thing.
These have no sugar, so that means you can be extra enthusiastic about the maple syrup dipping.
Blueberry syrup was developed for this occasion. I scooped half a cup of blueberries out of the freezer, put them in the pyrex with the syrup and heated them both in the microwave. I wasn't too convinced by the flavor but Lux thought it was the best thing ever.
Sugar Free Whole Wheat Waffles from Simply in Season, p. 297
2 eggs (beaten)
2 cups plain yogurt
Combine in a large bowl.
1 cup whole wheat flour
1 cup flour
2 teaspoons baking powder
1 teaspoon baking soda
1/2 teaspoon salt
Combine in a small bowl then stir into egg mixture. 
1/4 cup oil
Add and stir together until blended; do not over-mix or the waffles will get tough. 
Bake in a hot waffle iron.