My mom is both very generous and very tech savvy. She frequently laments that she does not live closer to help me out more. Thus it was not a shocking surprise but still a super pleasant one when I found a gift for four dinners from plated in my inbox. Mayhaps she had seen a recent Facebook post wherein I basically swore off cooking dinner until Joan was two.
I immediately clicked onto their site and selected two dinners to be shipped for that Tuesday. Lamb burgers with a greek salad side, and broccoli chicken curry. I specifically picked two things that I wish I cooked with more frequently–lamb and curry.
Obviously I was immediately smitten with having everything neatly labeled and divided. I think the cooking channel has made us all long for that: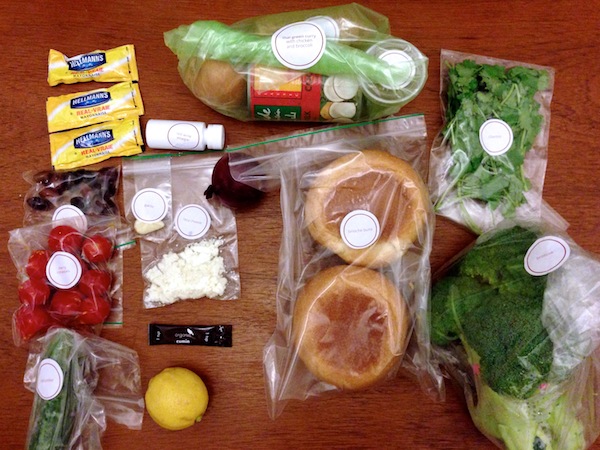 The only thing either dish needed from my pantry was olive oil, salt and pepper. Both dishes were designed to be prepped in about thirty minutes.
The whole family really liked both dinners and I particularly liked that the easy recipes taught me a few techniques. For example–the lamb burgers came with directions to quick pickle red onions, mix feta into the mayonnaise, and lightly toast the buns beforehand. All of these were easy things that completely upgraded the dish, things that I typically wouldn't think to do. I had an aha! moment when I read "Wipe pan clean from burgers. Return to heat and briefly toast buns in the pan." So simple, yet I never do it.
I love cookbooks, I read them all the time. I love trying new recipes. But I appreciated the user-friendly aspect of something like this. I think it's perfect for people who say "I'm terrible at cooking." Or for a young single guy who wants to cook at home, but has no idea where to start. You could do a couple weeks of this, and go forth feeling like you know what you're doing and have some serious experience under your belt. For me, it helped me snap out of the "whaaat do I make tonight?" rut that I was knee deep in.
They ship to a surprising number of places (like, Pennsylvania, Iowa and California!) which makes them a potentially awesome Christmas present.
And for those of you googling this stuff–there is another service out of New York called Blue Apron. Here's the skinny on a couple of the differences between these competitors. 1/ The menu for plated changes every week, and you can decide your order up to 24 hrs before it ships. 2/ Blue Apron is $3-5 cheaper per plate, but you do not get to pick the food, you just pick whether it is vegetarian or not. 3/ plated has an optional monthly membership that discounts each plate. Blue Apron is cheaper overall, but requires you to receive a certain amount of dishes each week.
I've still got two more dinners to order–I'm eyeing those potato goat cheese cakes for next week! This isn't sponsored, just a personal review. BUT do note: if you use a referral code to sign up, you get two free plates!