If there's one thing I hope you can take away from any time you've spent on this blog, it's this: buy the Alice Waters' cookbook the art of simple cooking. It is the seriously the best. Her recipes are so basic and simple and delicious, always delicious. Go write it on your Christmas list right now.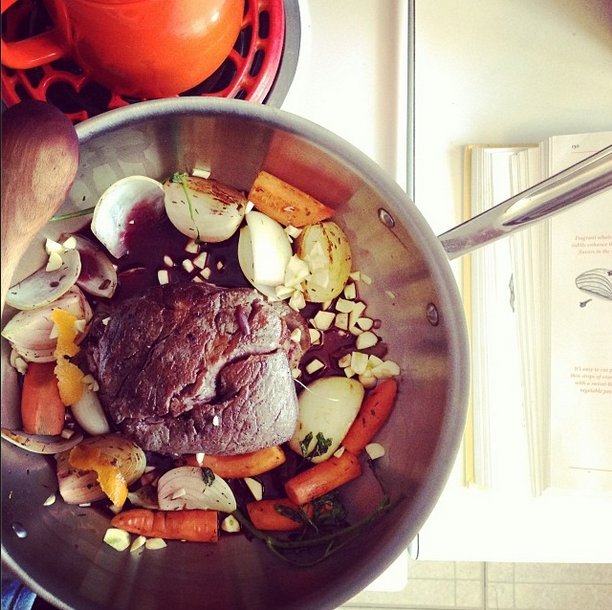 I bought this beef chuck because Whole Foods was having a sale and the meat-monger basically guilted me into it. I bought two pounds when I should have bought three, but oh well. The recipe also calls for cloves, savory, brandy, and bacon, but I oh-welled those too. Because I bought it before I was planning on using it, I heavily salted and peppered the meat, wrapped it in saran wrap and left it in the the fridge for three days. Alice is a big fan of this type of aging (though probably more the 24 hour-type than the three-day-type.)
This was so so so good. Joe and I were aghast at how good it was. As I was nibbling on corners of it, waiting for Joe to get home, I had visions of Sunday dinners and hosting friends with this dish. Anything seemed possible, all of a sudden. I think the clutch element is really browning all sides of the meat at the beginning of the recipe.
I use these concentrated "better than bouillon" stocks for all my chicken stock or beef stock needs. It is easy to keep them in the fridge and you never have to say, "shoot, the only thing I'm missing is chicken stock." And, ultimately, they make better stock than most cartons. Available at all grocery stores.
I wish I had made mashed potatoes or grainy bread to go with it. I did make biscuits, they were a little on the rich side. I don't think you could drink red wine with this dish, it's so savory! Maybe scotch with soda?
Alice Waters Beef Stew-as-Pot Roast Recipe
3 pounds beef chuck, seasoned with coarse salt and fresh ground pepper (a day ahead if possible)
3 slices of bacon, cut into 1/2-inch pieces
2 tablespoons oil
2 carrots, chopped into 2-inch chunks
2 medium onions, quartered
2 whole cloves, stuck into a quarter of onion
2 sprigs each of thyme, parsley, and savory (I skipped the savory and used dried thyme)
1 bay leaf
a few peppercorns
3 tablespoons brandy (optional)
1 3/4 cups red wine
3 tomatoes, diced (fresh or canned)
a small head of garlic, peeled and coarsely chopped
1 thin strip of orange zest
2 cups beef stock
Heat the oil in a heavy skillet and cook bacon until fat is rendered and bacon is lightly browned, but not crisp. Remove bacon.
Brown the beef on all sides in the bacon fat. Put meat into a heavy pot or braising dish. Lower heat and pour off most of the fat from the skillet. Cook the carrots, celery, and onions with the herbs, bay leaf, and peppercorns until lightly browned. Add to the beef in pot/dish.
Raise heat of empty skillet and add the brandy, then the red wine. Scrape up the browned bits stuck to the bottom of the pot and reduce wine by two-thirds. Pour over the beef and vegetables in the pot.
Add the tomatoes, garlic, orange zest, and broth to the pot. The liquid should come up at least 1/2 of the way up to the top of the beef/vegetables; add more broth if needed. It does not need to cover the ingredients entirely.
Cover and cook at a bare simmer on the stovetop, or in a 325-degree oven for 3-4 hours until meat falls apart when tested with a fork. Check the stew occasionally to make sure it's not boiling and there is enough liquid.
Let stew rest for a few minutes before serving and skim off layer of fat on top. Season to taste and serve, if possible, sprinkled with freshly chopped parsley and garlic.
note: the photo up top is right before I added the beef stock, put the lid on, and slide it into the oven.