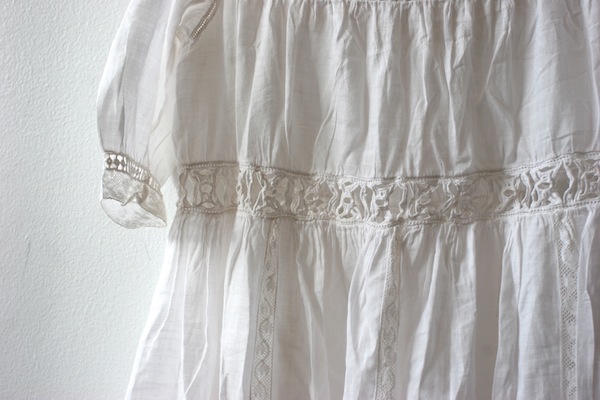 A couple weekends ago I spent a cold morning helping organize a tag sale. Joe entertained the girls back at the apartment while I met up with three other moms at our playground. We had our paper cups of coffee, our mittens, and tons of donations. There were big bags of clothes, and my job was to hang up each item of children's clothing and place it on the right size rack. Organizers got first dibs on shopping, but Lux doesn't really need anything, so I had just pulled out a box of infant socks so far.
AND THEN a woman dropped off a ziplock bag of antique linens. A bag, I'm not kidding. Folded over delicate dolls' jackets and infant victorian-style tops, and two dresses that looked like baptism dresses to me. I pulled those out to buy for myself, and packaged up the rest of the bag for some other antique-lover to find. It seemed like too much for one person to claim all for themselves.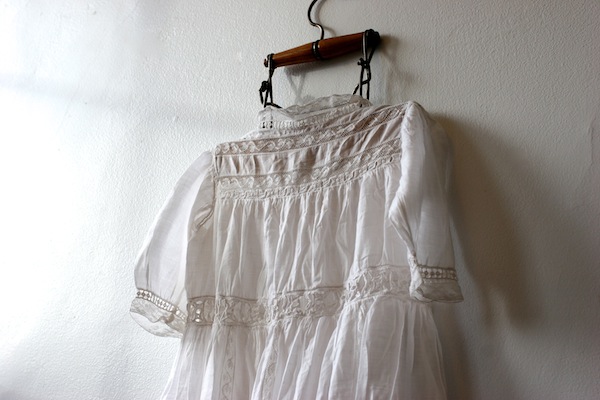 This dress, the one Joan wore, is so pretty, and I feel lucky to have it. I like to think about the woman who made the dress. I bet she made it by hand, and I bet she picked out the lace months beforehand. I wonder if she made it for a boy, or a girl, or maybe both, for her whole family. It must be at least 100 years old but it's in such beautiful shape.
So this will be for whoever comes after Joan. And maybe, just maybe, it will make it to a granddaughter someday.