what's on your homescreen?
a new series wherein I ask friends what apps they use frequently and why. I'm going first, let me know what you think!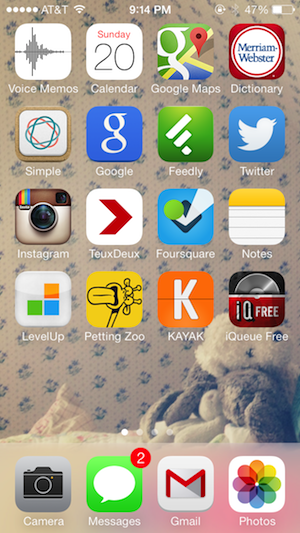 Voice Memo I've been using this to record Lux talking to herself and at music class so I can remember the songs for Lux later on.
Google Maps Much subtler on the road than the Apple maps app.
Merriam Webster Good old fashioned knowledge.
Simple a new bank that Joe and I are using because their app is designed to help you save.
Google I use their search app because it's quicker than the Safari browser.
Feedly, Twitter, Instagram Need no explanation, really.
TeuxDeux a to-do app for the daily and the long term. I really love the simplicity of it. In November, they are going to start charging $24-a-year, and I'm up for paying.
Foursquare Better for suggestions of where to eat more than over-saturated Yelp these days.
Notes Compared with TeuxDeux, I use it more for spur of the moment. Great for grocery lists. Intuitively designed not to waste your time when you are just trying to jot things down in the moment.
LevelUp Boston's preferred pay-with-your-phone app, usually saves me $5-$10 every ten purchases or so.
Petting Zoo Still my favorite kids app, though Lux prefers instagram, especially #puppiesofinstagram.
Kayak for whimsical flight searches, just to satisfy my frequent "how much does it cost to fly to Bali in March?" thoughts.
iQueue it makes zero, ZERO, sense that I have to use a third party app to update my Netflix dvd queue, but there you have it. It works quickly and simply. Recently added: La Vie en Rose, A Nos Amours, Mystic Pizza, Skyfall.