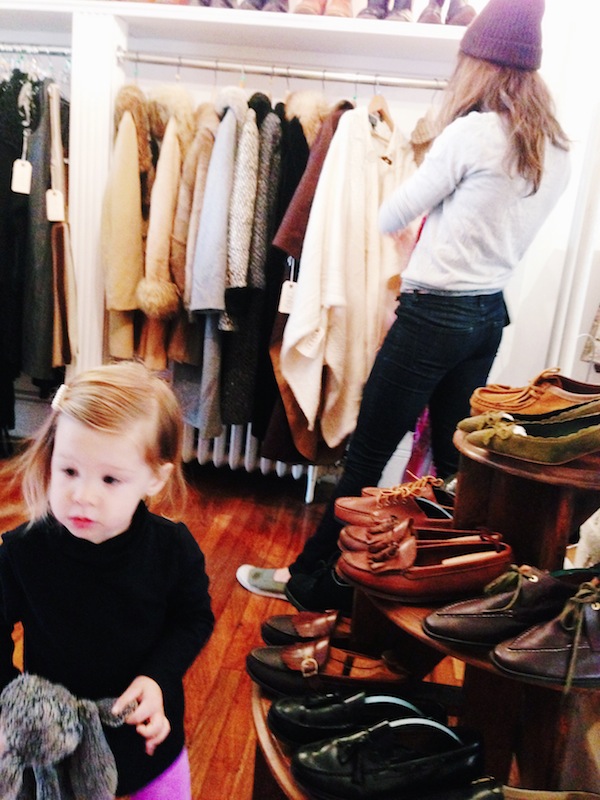 My younger and only sister Joanie came to visit last week (we have five brothers, but just each other, sister-wise). She knows me like no one else and even though she used the word "exhausted" to describe me four or five times, I love her. Her advice is like gold to me, other than when she tells me about movies because I only see one once every three months or so and she has five to recommend at any given time (yeesh, LA people! I tell ya). She did dozens of dishes, complimented my granola, didn't get annoyed when Lux woke her up at 7AM (4AM Cali time), brought in cheese and champagne for dinner, hauled groceries back up the hill, taught Lux to say "where's my money?" and watched a few too many Daniel Tiger episodes for my taste. Aunts. What rascals they are.
We went vintage shopping at Oona's in Cambridge and she loved it like I hoped she would. (Joan says cable knit sweaters are about to have A MOMENT which, of course they are, because I gave mine away to goodwill oh, six months ago. Like clockwork, those trends and my closet clean-outs. But honestly mine was scratchy and didn't fit well in the shoulders.) We ate burgers and skinny onion rings and drank Crispin ciders in the basement of Tasty Burger. She read books all morning to Lux so Joe and I could go get waffles at Beacon Hill Bistro. One morning I did errands like a CHAMP, paying off ten bucks in library fines (HERE THEY ARE AT LAST, I screamed as I threw the board books down on the counter. Not really, of course. I meekly doled it out and the kind man even knocked ten cents off my bill), mailing a few things, consigning a pile of clothes.
sigh. It was lovely. Visitors make the week go by so fast and adventurously.