For Mother's Day I asked for breakfast in bed and a New York Times. By the way, who is killing the monk seals? I didn't find out because the Travel issue was hiding right behind it. I enjoyed this urbane man's review of the Airbnb experience, Joe liked this essay on traveling alone.
Deborah Needleman is now editing the T Magazine for the New York Times. She was Domino Magazine's editor and had a brief glorious reign at the Wall Street Journal's magazine. I predict great things for the T issues of the future (which has in the past been very snobby and not all that stylish).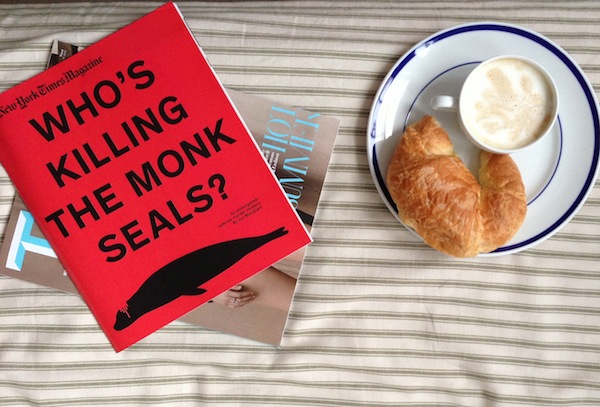 Buy a man a $2.50 frother at Ikea and it turns out he makes a damn fine cappuccino. I had no idea where this cappuccino came from when he flourished it in front of me, all I knew was it was much better than Starbucks (maybe because it was made with heavy cream! my favvvvorite). We've been using whole milk too. Takes about four minutes, done in a pan warming on the stove while your espresso pot wells up.