I'm listening to saxophony jazz on this rainy day. The buskers we encountered over the weekend all seemed to be playing saxophone.  Lux fell in love with one of them and stopped to wave at him every five steps as we walked away. He waved back every time.
We went to the MOMA to see the exhibit the century of the child. It was clearly very cool but we couldn't read much of it because of the child. Instead we hung out in the courtyard. And we did leave inspired to buy at tripp trapp high chair. (and fortunately there's a very informative interactive website, so I can follow up on all the stuff I saw.)
We "waited" for two hours for ramen at ippudo (actually, we left and came back, then snacked at the bar, then got a table). Do you have ramen envy? I did. It felt like all the foodies were talking about ramen. Maybe it was reading that first issue of lucky peach. Ramen restaurants make their own broth combinations, their own noodles, and suggest different toppings like soft boiled eggs. mmmmmm I'd love to go back.
Lux woke up at 6am every morning. Thus we went to a number of coffee shops. If you're traveling on a budget, just buying coffee in different places is a fun way to tour. (pictured here, Gasoline Alley)
After following them on twitter for two years I finally visited the bookstore Mcnally Jackson. That bookstore is beautifully designed and thoughtfully spacious, despite being rather small. These people know the power of typography.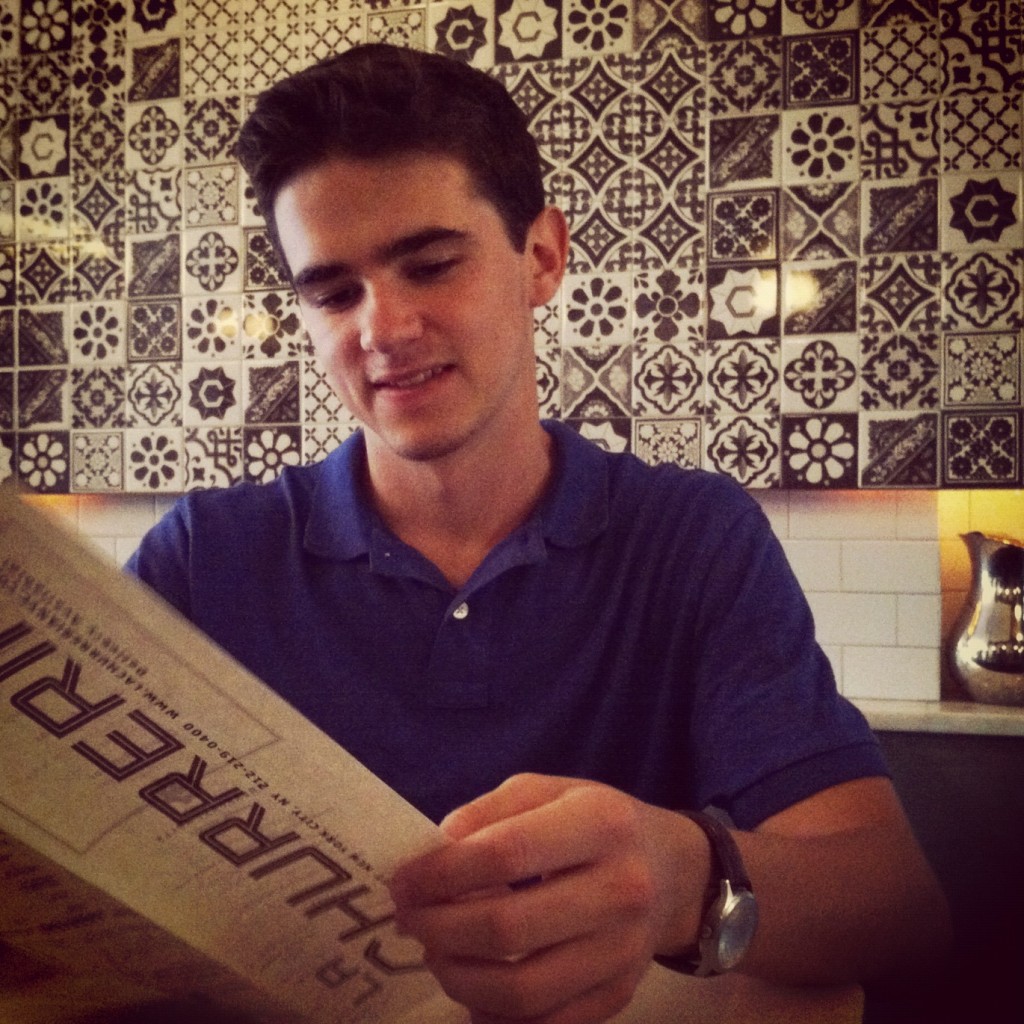 My second-to-youngest brother Wilson is just starting his freshman year of college. Can you imagine, freshman year in New York? Amazing. We shared fresh churros at an inviting little cafe called La Churreria.
Liege waffles with yogurt, blueberries and coffee from a Japanese cafe called Caffe Bene. They are in Time Square, enormous and have free wifi. It's an interesting spot to visit—the cafe is styled almost like a retail space with hip library-esque decorations and nice light fixtures. And the coffee, just normal drip coffee, was really good.
I used the New York Time's free app the scoop to find a few of these places, especially all the espresso spots. I rely on Ashely's Hither and Thither blog for all good NYC recommendations.