Joan: not-so toothy grins.
Lux: last day before her old friend Henry moves to Idaho. 
Lux: with one of her sweet friends, Emma. Being able to handle a CONE has been so fun this summer. JP Licks has the ultimate sprinkle waffle duo.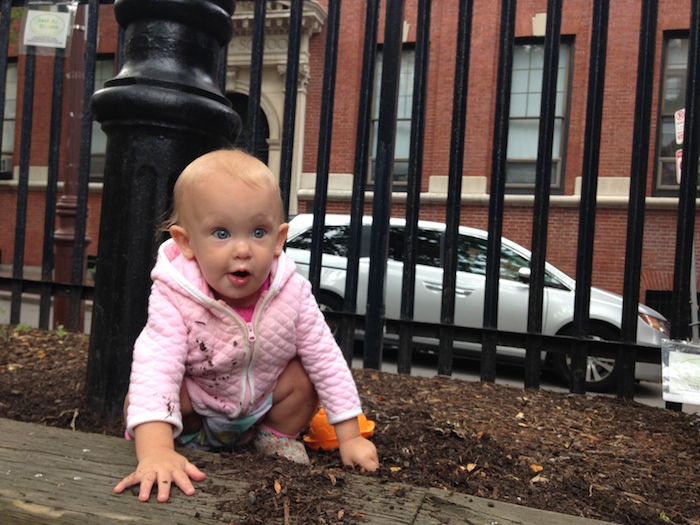 Joan: the scrambler, as I frequently refer to her.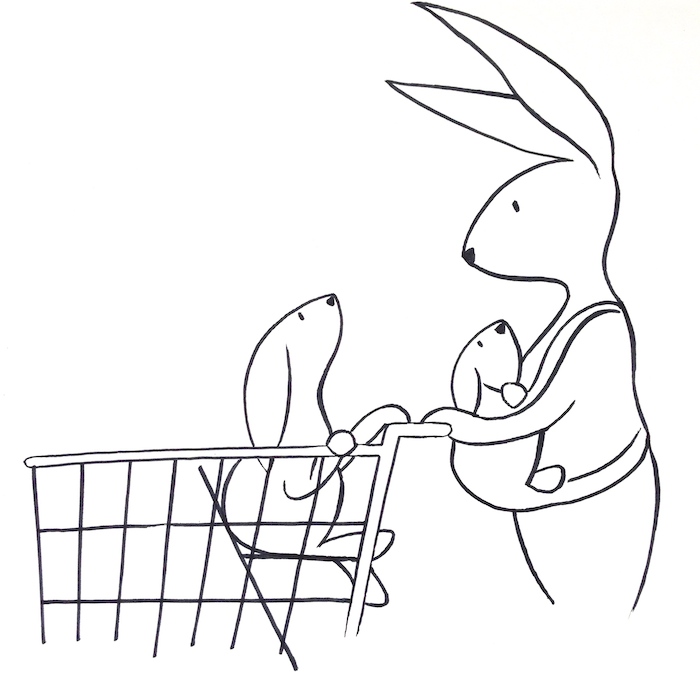 Making friends with other new moms is very important to a life well lived with children. It gets easier to meet fellow soldiers as your kids age, which is unfair because you need new mom friends the most in the first year. The months before the baby can interact and respond to you can be isolating, thus you need backup. 
It's also REALLY nice to have friends with babies at the exact same age, as everything changes in three week increments with infants. If you are very fortunate, you might meet people before you have the baby, and then you can exchange kind, commiserate emails at the hospital and desperate texts re: diaper cream brand and pesky doctor appointments.
However, I think it is hard to meet people ahead of time because you're distracted in that certain pregnancy-distracted way. Or at least I was.
Here are my steps to building your new tribe of friends, follow them to the letter:
1/
 Identify baby-hangout spots in the area
 a sidewalk everyone walks with strollers in the morning, parks with baby swings, libraries with song circles, a pool with infant swimming lessons, churches with nurseries during the service, coffee shops….It's not well publicized but all "baby activity classes" actually just exist for parents to meet each other. But just attending the event isn't enough, you also have to…..
2/ 
Be more outgoing than you've ever been before
 Size up anyone with babies around the same age, and sit down next to them. Stop by their blanket in the park and laugh
that you both seem to be on the same schedule, geez  I wonder why…
Turn around in line and begin to chat up the fatigued caffeine-seeking compadre. Pick from any number of the million current similarities in your life and strike up a conversation. Don't be afraid to act interested and eager 
because you are
. People like interested and eager friends, so this is a handy attribute you can already claim.
3/ PROCURE CELL PHONE NUMBER FROM THE CONTACT 
The most important step! Never walk away from a pleasant exchange with a new mom without a way to contact her. You could easily not run into them again for several weeks and you've already established that they are: 1/ breathing 2/have a baby 3/speak the same language as you. Text them on the spot with your name and your baby's name.
Do it like so:
 "Hey, let me grab your number so I can text you next time I'm headed this way."
"Let's trade numbers just in case we want to walk and get coffee sometime?"
"Hey, what's your email, I'll just email you right now so we have it."
In some ways email is better than a cell phone number because it's a little easier to stay organized on email, and write each other notes. If you ask for an email, you usually end up getting your new friend's full name too, which is convenient.
If you want to casually mention 
I'm @______ on Instagram,
 well, all the better in my opinion. But I'm a big fan of social media, and I totally get it if you want to keep your child off the internet, as they say.
Last tip, then go get 'em!
If you meet a mom from your area who is a little bit ahead of you, baby's age-wise, ask her what her favorite class or activity is in the area, and ask her if there is a local mom's email or listserv group to join.
drawing of me and the girls by Joe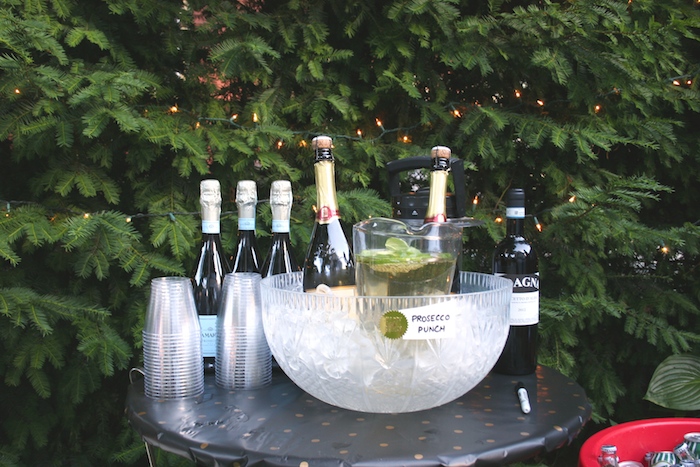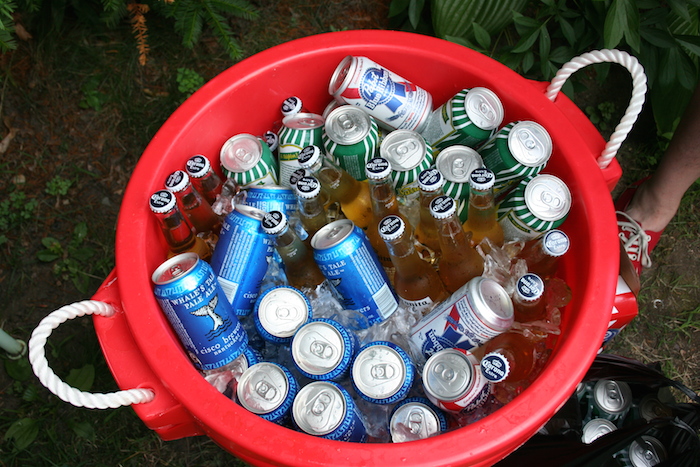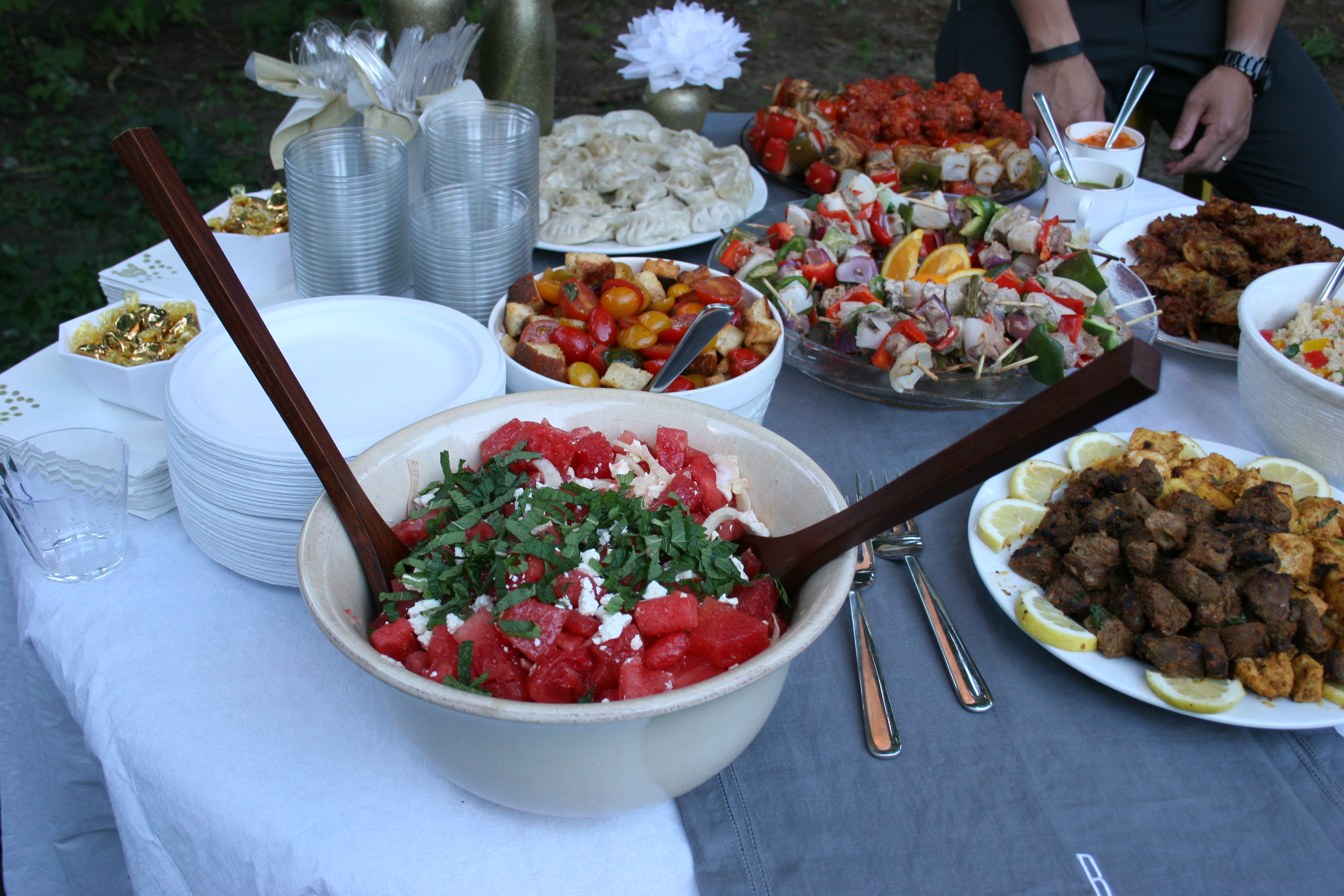 Last week a few friends threw a surprise party for our friend Birgit. It was such a treat to plan a summer party for a good friend, anticipating the surprise and writing clandestine emails behind the scenes. The evening was all about enjoying the love for one another in the air.
My friend Megan's decorating was a testimony to the power of a few twinkle light strands and helium balloons. That, and the wonder of a warm summer night in a tiny backyard framed with towering evergreen bushes.
We bought far too much alcohol and there was plenty of food and old friends that went to grad school with Joe but now live in different cities. We put Joan to bed almost immediately, in a pack n play in our friend's front bedroom, but Lux and her pal Haruka played the party until 10pm. It's fun to have them at an age where they don't turn into pumpkins at 7pm.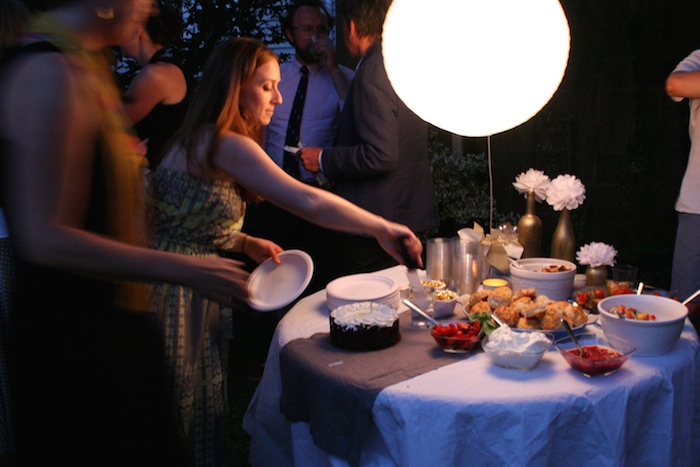 My contribution was a quadrupled recipe of the basil strawberry shortcakes from Bon Appetit. They were really, really good. The biscuit recipe is a great one. Biscuits are only ever good when made with heavy cream and then, they are amazing. The recipe has you mix creme fraiche into the whipping cream. I bought too many cartons, so Lux has spent the week dipping her pretzels into our extra creme fraiche. Joan has had many spoonful as well, because the girl is ever-underweight and we're just trying to keep up!