Sam McFadden and I met when our oldest children were in the same kindergarten class at a fabulous Boston Public school. We both showed up with their younger siblings at pick-up, splitting snacks between the two and managing to watch both the playground-play and the fountain-play at the same time. Our kindergarteners became fast friends, built on a shared love of Minecraft, drawing, Star Wars and imagination.
In quick succession Sam and I both began showing up looking fatigued, queasy, and then subsequently announced/explained: pregnant.
Right around when we finished our lease on our North End apartment and moved to Vermont, Sam and her husband Aaron made the decision to follow a lifelong daydream and move their family onto a sailboat. They have been living and homeschooling on their 42′ boat since last year. After watching them spend this past summer sailing around Maine's harbors, I had to follow up with her and ask a few questions about life these days!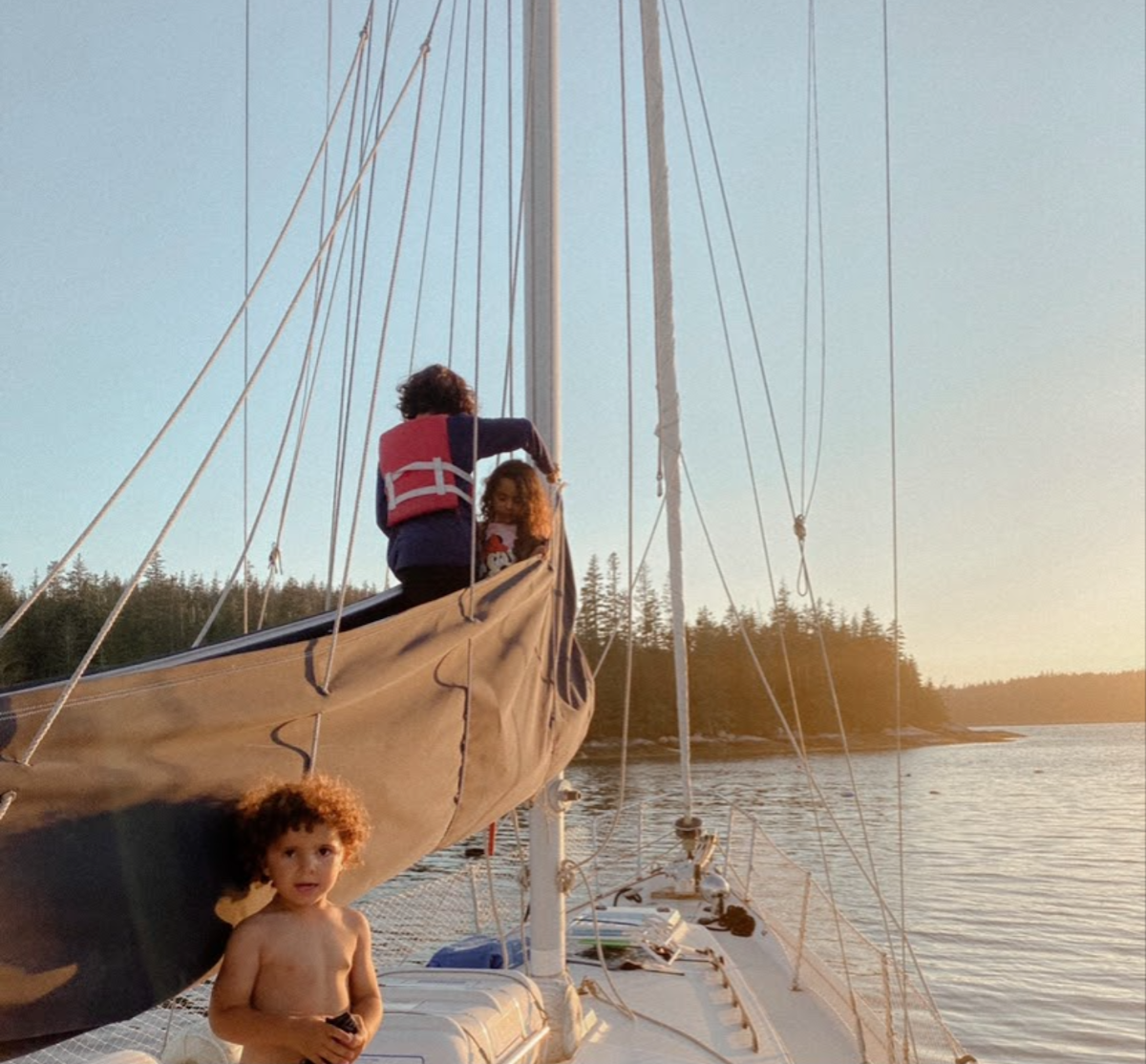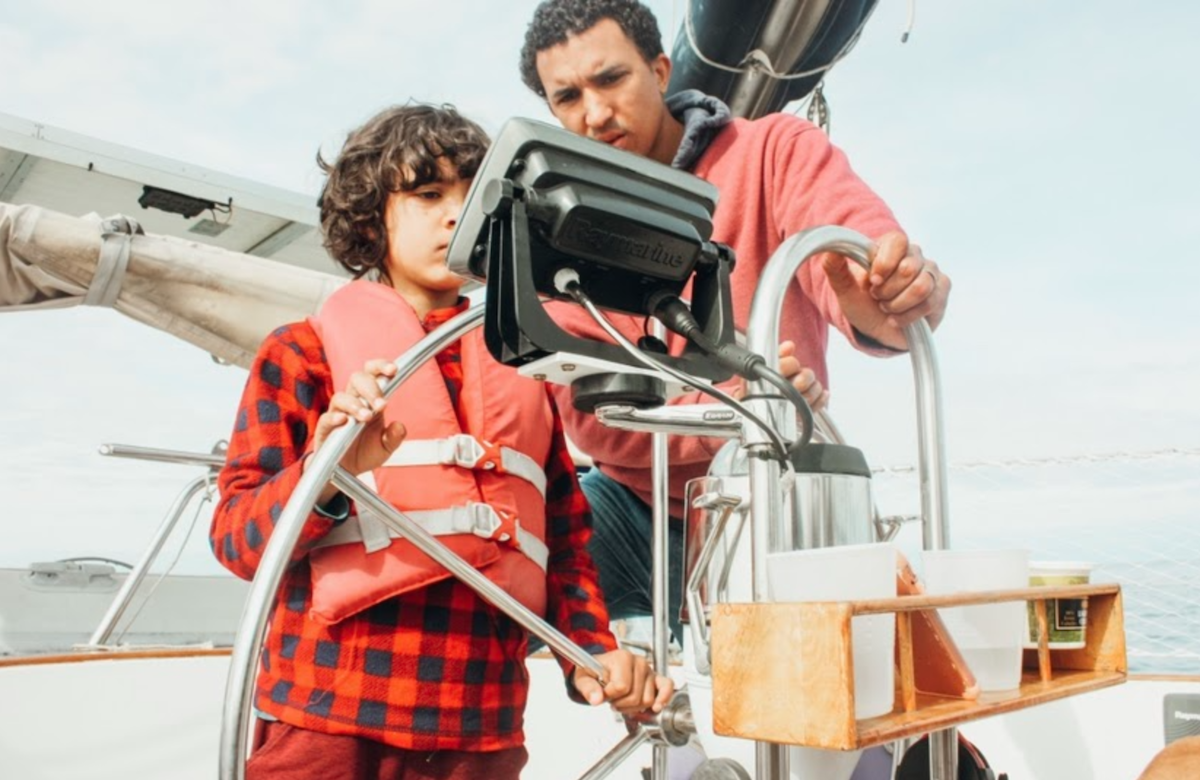 How long have you lived on your boat as a family of 5?
After subleasing our Boston apartment and moving in with family for 8 months to help save up for this adventure. We moved aboard our boat in June of 2019 just after our youngest turned two. I had no idea what we were about to get ourselves into!
Can you describe the living space a bit?
We live on a 42ft sailboat. There are two cabins (bedrooms), one head (bathroom), a galley (kitchen), and two settees (couches) around a table. We're not certain how many square feet but it's safe to call it a tiny home. But our favorite space on the boat is our cockpit, aka our outdoor patio/living room. This is where coffee is sipped in the morning and sundowners are drank in the evening with new friends.
And how many possessions do you each get to have?
I've never stopped to count how many possessions we each have. There is nothing we want or need that we don't have on the boat. We cut down the kids toys before moving aboard to the things they play with daily (legos, barbies, books, etc) which was long overdue and felt great to purge (and they didn't seem to mind). Our 'wants' have now changed and they no longer have quite as many indoor toys and we are now investing in outdoor toys such as snorkeling gear, paddle boards, fishing gear…
What's something you've learned about sharing space as a family that is different from your previous life in a small apartment?
We've learned to utilize space better. In such small quarters, you don't want any wasted space. I've also learned that my husband loves to hoard t-shirts!
I know you guys were homeschooling pre-Covid. Do you have any advice for those taking it for the first time on this fall?
Free yourself from all the preconceived thoughts you have about schooling. The experience can be completely different from traditional schooling. Let your imagination run wild and you'll discover what works best for your children. nWe certainly don't have it all figured out in this department but we find that a 2-3 hr school day for our oldest (9) works for us as a family. The best advice we got from another cruising family was to figure out what interests your child, and work their schooling around that.
Please share some highlights of your summer on the boat!
We spent three months in Maine cruising from island to island and exploring Maine's cost. We went hiking and exploring almost every day. We met several other families cruising on their boats and forged new friendships. It was a summer we will never forget! Our confidence in our boat and our sailing ability has gone up greatly after being on anchor all summer. Some of our favorite memories were learning the many ways our boat can be turned into a 42' jungle gym, meeting other cruising families, exploring some of the hundreds of islands that Maine has to offer, and $5 lobsters!
Share some lowlights to keep it real.
Our anchor dragged in 40 knots of wind at 1 am, forcing us to get out of bed and relocate in the middle of Hurricane Isaias. Thankfully, with the help of another cruising family, we were able to grab a mooring in the dark. We also had our wind generator snap off while we were underway, fighting 4-5ft seas. I was able to free climb the mizzen mast (holding on for dear life) and secure it before it caused any more damage. We also got caught on a lobster trap in rough seas, which took us 4 hours to finally free ourselves. But all these challenges helped us build confidence as a family that we overcome just about anything.
All of these are a great adrenaline rush for Aaron, me, not so much! We also are going through the three-nager year with our youngest. He has a gift for throwing temper tantrums at the perfect moments…. like docking and anchoring.
What's the plan for this Fall? Heading south?
The plan is to head to the Bahamas and cruise throughout the Caribbean for a year or so. And hopefully continue our journey beyond that!
Thank you Sam! Definitely follow their adventures as they head south to the Caribbean this winter on instagram at cruisingGaia.