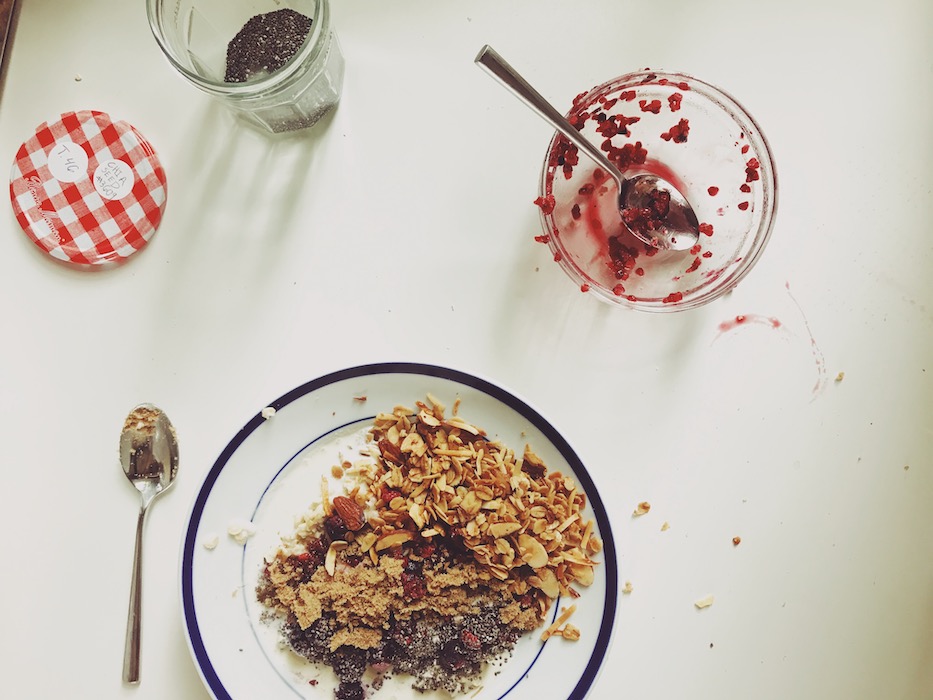 Once upon a time it really bothered me to see all the milk and floaty-melty cereal bits going wasted in my kitchen every morning. I didn't like buying the cereal boxes, which seemed expensive, and the cereal seemed to fill the girls up for about fifteen minutes before they were hungry again. I wanted them to love oatmeal like I did but they were always complaining that I had mixed theirs wrong, made it too hot, let it get too cold. Goldilocks was feeling less like a fairy tale and more like a fable of my life. Maybe I should have tried suggesting walks in the woods while our porridge cooled. Maybe I could have tried calling it porridge.
Flinging caution to the wind, I stopped controlling their bowls. I put out frozen berries, chia seeds, a jar of brown sugar with a spoon, and heavy cream, and let them portion everything. The girls spent the first week heaping their bowls with syrup-level brown sugar. No commentary from me. The next week things seemed to balance out. Now they each make their own delicious bowl and, generally, eat the whole thing.
I also discovered if I used a big glass bowl I could mix two cups of oatmeal with a little over two cups of water and microwave it for four minutes to make the perfect batch amount every time.
When we go by the cereal seduction aisle we have a little routine where they examine the cartoon characters parading past and I say something distracted like, "maybe when we go on vacation." Take into account the frozen berry mixes and I don't think this method is saving us any money after all. But I do think it's a better breakfast.
Once you are undeniably in charge of your own things like bills and phones and the ability to drive, you can take on out-of-control things like placidly overfilling your bowl with odd textures. With that in mind, here are two adult variations that I love to make for myself:
homemade granola, frozen berry mix, marching line of chia seed (the funny thing is I don't like chia seed in smoothies but I love it as a sprinkle), heavy cream.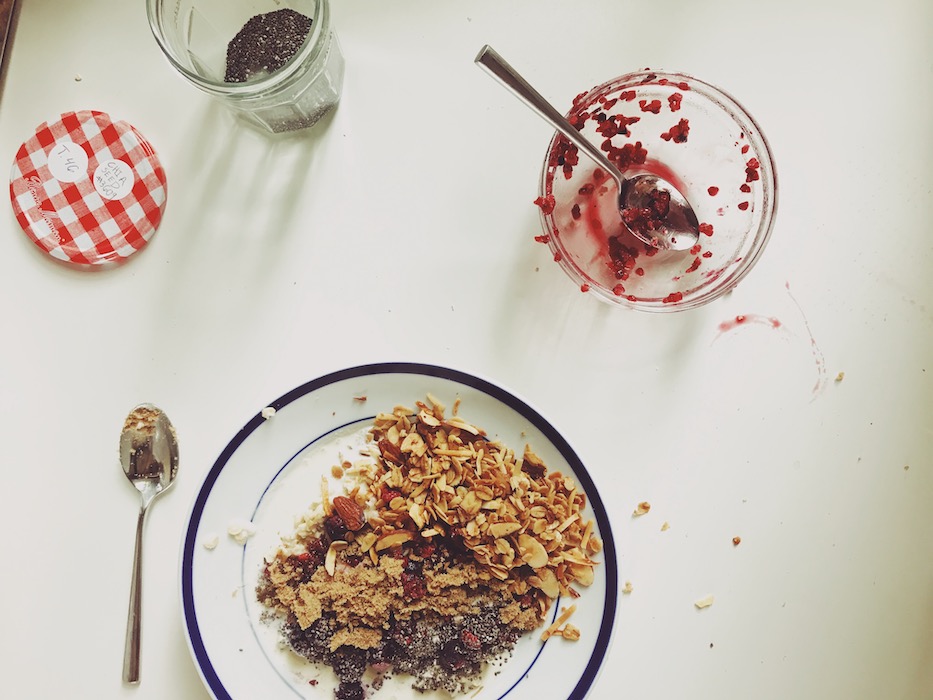 heavy cream to the side, sliced banana, coconut sugar (such a crispy flavor), chia seed.