January 1, ladders and roe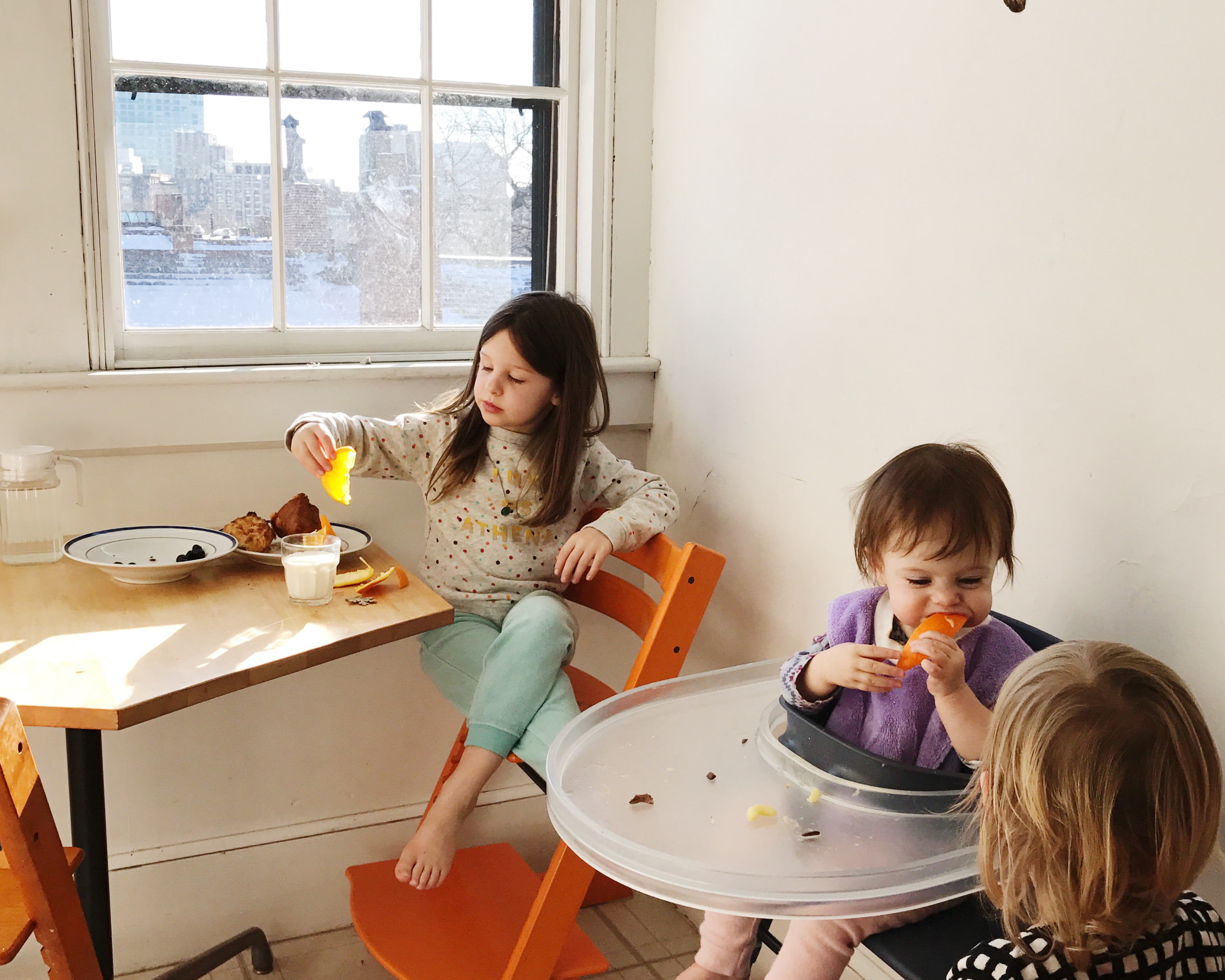 Coming back to our 700sq feet home as a family of five after an expansive sunny vacation is like parachuting into a gray November day from a bright one in June. You're happy to have your feet back on the ground, it feels familiar and cozy and yet…crowded. Certainly there is too much stuff, and look: we've brought more back with us! Why are the book shelves already full? one wonders with a stack of new books in-hand.
It's a puzzle to find a spot for everything, and the trick is to take pleasure in the solving of it. 
Over Christmas, my sister-in-law Hannah got me into this book Super Nutrition for Babies. I'm really grateful because reading it has been a wake up call for habits in our house. I find that you begin parenting saying to yourself my children will never order off a kid's menu, or I'll never buy kraft mac & cheese by the dozen and then things just happen. It starts to feel normal to have bags of animal crackers, pretzels, bread, and frozen waffles filling half your cart, or you get demoralized when they don't fall in love with your roasted root veggies with horseradish on first kiss.
In particular, I was often offering Alma the same easy finger food as Joan: tossing pasta and fruit on her tray while I prepared a vegetable, only to find her full once I offered it.
So, after highlighting half the book on my kindle, I plowed into this week in full pursuit of a protein diet for the whole family, slipping lots of hard boiled eggs in ("here, eat this egg while I make you a sandwich"), keeping a steady supply of baked sweet potatoes in the fridge, and offering cheese or cold chicken for snacks. I made my first very tiny batch of bone broth. I poked around our seafood section for salmon roe for Alma, and I realized they sell white anchovies, a very mild and tasty fish, preserved in oil and vinegar, that all three girls love. I had never noticed it! I pestered our butcher counter and learned they tuck (incredibly cheap) frozen lamb liver and heart in nearly hidden spot in the freezer aisle.
I'm very glad to be shifting habits around in the pantry and refrigerator. These types of things are always followed by a briefly higher grocery bill, packing the wrong snacks, and lots more mental work. I'm trying to take it slowly and not be disappointed when change doesn't come about with brilliant success. For instance, several times this week Lux ate nothing out of her lunch but the raw veggies I sent–all of the proteins (chopped chicken, container of yogurt) didn't appeal to her by the lunch hour. 
Upon reflection, nourishing this family is probably THE hardest job I do. I'm often amazed at how much time it takes to plan, prep, feed, and clean up. Other times I realize how important it is, and try to take up my pantrykeeper mantle boldly. 
A rope ladder for Christmas, technically for Joan, but enjoyed by all three girls. Most of Joan's play is imagination-based, she could pack a covered wagon full of salvaged post-it notes and beaded necklaces before you could say "cholera", so it's nice to have simple (mess-free) toys that facilitate her adventures as well.