on the occasion of our 8th anniversary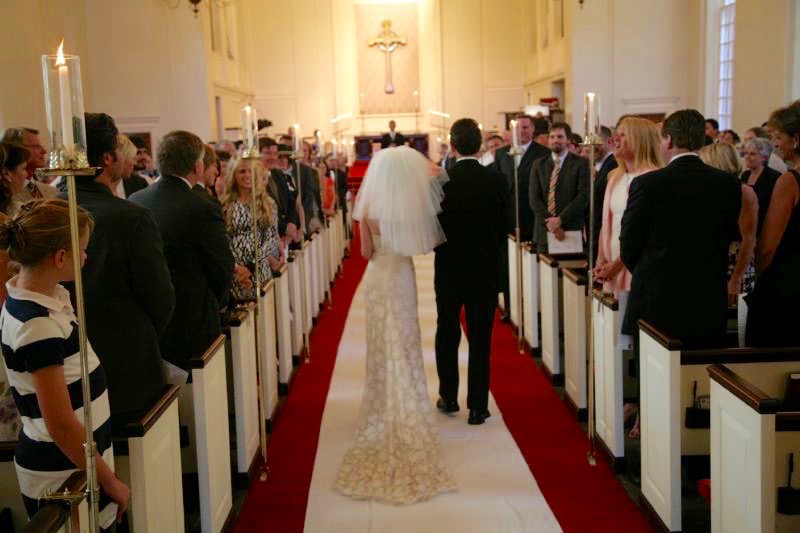 I remember the overwhelming satisfaction of moving into an apartment that was only for us. We firmly believed it was a perfect apartment. Each guest that came to visit, we waited for them to observe the perfection aloud (many of them instead noted the petite bathroom). The curtains we bought for the bedroom were the wrong color, the shelves Joe built in the kitchen were exactly right. The insanity of the wedding gifts, how amazing all those things were! We were given a beautiful, enormous wooden salad bowl that June. I found it bizarrely large, couldn't seem to fit in anywhere in our apartment, couldn't imagine making a salad that large, and I returned it.
Now, age-old-like-cheese me, longs for an enormous wooden salad bowl.
I don't remember the quarrels, but I remember we had them and that they seemed Very Serious. Perhaps it is age (again) but based on how rarely they happen now, I feel sure they were nothing but the mumbo-jumbo of believing all of your emotions deserved to be said aloud.
It must have taken a year, maybe two, to discover was how to motivate each other. There's a theory that you give the type of love you hope to receive (debatable), but certainly you encourage in the way that encourages…you. For me that is soft phrases implying the work has already been finished, I need only to do a bit more to dust it off. Even better if it is implied that the work doesn't need to be done at all, but if I cared to, well then, it would be nice. For Joe, what wakes him up in the morning are stark roadmaps that give way to how much still needs to be accomplished. The sight of a nearly-burned-out building, for him, is just the thing to set to work on.
The metaphor carries easily to housework—I keep up with tasks like clean countertops, a full fridge, and the constant reincarnation of dirty dishes. Joe prefers overhauling the bathroom or vacuuming the entire apartment after five wool blankets were dragged over the carpet.
But mostly I bring up encouragement in the meaningful adult sense—ideas you want to pursue, important shifts in your habits, projects at work, projects for yourself. Encouraging each other in these areas is one of the best elements of marriage.
My parents asked us to take a financial course within our first year of marriage. The sessions ironed out most wrinkles in our mental wardrobe of crumpled habits. (We had revealed a few subliminal expectations already through reading the book Saving Your Marriage Before It Starts which suggested asking about things like do you always order dessert? and, when you stop for gas, do you buy a snack? The book is not amazing, but it did have its moments.) The course encouraged a joint bank account, something that we would have done anyway. It required that we document, on paper, all spending for three months. First month: document. Second month: document, set a goal, but go easy on the slip-ups. Third month: document, set a goal, do your very best to reach it.
We tracked ours on a small library card tacked to the fridge, his and her handwriting marking small deductions by turn. When you do that you encounter the thrill of marking down something you were excited to buy together, but also the sapping drag of a purchase already you wished you'd skipped. Three digit bills seem enormous, but endless tiny ones add up as well. Without noticing, you began to value the days you didn't have to write anything down.
I remember grocery shopping and not knowing what to buy; me in the aisle with my hand hovering before a box of crackers wondering do we both like these?
I wanted to be impressive in my capacity to cook well, but spend little. But I believed true couples' cooking was Cook's Illustrated recipes—expensive meals, perfectly executed, preferably heavy on the carbs. I wanted to make only new things. It took us a year, at least, to pin down that we usually wanted to eat different things. Joe wanted chicken breast and a vegetable. I wanted four cheese pasta. We both wanted tomato egg sandwiches, caramels from the shop around the corner now and then, and in the summer–peaches and cottage cheese for dinner.
(Though I remember cooking a garlicky shrimp pasta from the tomes of Cook's Illustrated for a classmate of Joe's. And as he ate, he sighed and quietly said, like a restaurant.)