Bits this last weekend of January
I enjoyed reading the interview between Miranda July and Lena Dunham. I did not know Miranda had a baby, and I did not know she was married to the writer behind Beginners! Now I want to watch it again. I can't wait for Lena Dunham's book because I'm so curious to learn more about her relationship with her creative parents and how she managed to love them so much while growing up in a little NYC loft with them.
My brother Leighton renewed our subscription to the New Yorker for Christmas. After a few months without it, I have to say how grateful I am for that magazine. They have the most interesting articles, always taken from a totally researched yet creative perspective. It keeps me savvy, it really does.
 (Newman's oreos do not taste like real Oreos. Organic isn't cutting it here folks.)
These mug shaped loose leaf tea bags from David's Tea. Aren't they clever?
Lux and I visited our friends Natalie and Alfie and she pulled out all the stops on the coffee tray. Isn't lovely when people do that? And she asked me which mug I wanted. Then we listened to Pete Seeger and Sesame Street on the record player. Thanks Nat!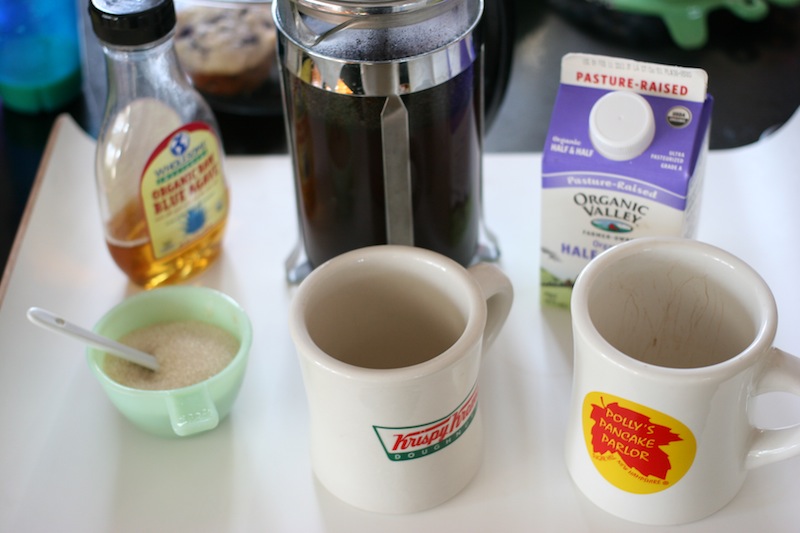 Last week Joe and I finally went to a Boston dance party that I've been eyeing on Twitter for forever. It's the third Friday of every month, with a $5 cover charge. It's just dance dance dance, which was exactly what I needed. We got there at 9pm and felt lame because no one was there yet. However, we had to leave around 11:30 and saw the huge line out in the freezing cold…I'll be getting there early every time (and making it till 2am one of these days). If you want to look it up, it's called Picó Picante. I highly recommend it. (mailing list here)
(and they gave us feathers to put in our hair, which made everything immediately more wonderful. I won't be able to wear this top for, oh, another year, so happy new year to it too.)