Shiitake Mushroom Strata and Sophistication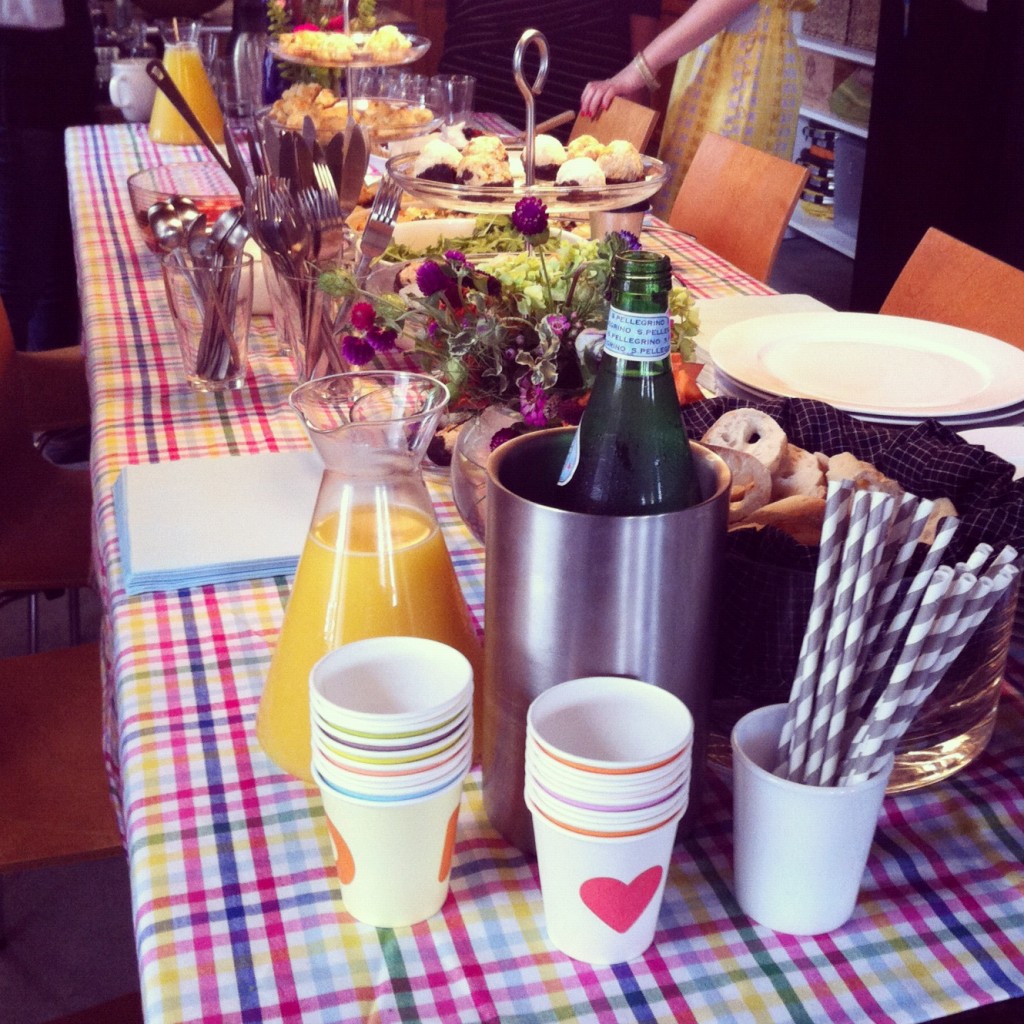 I moved to Somerville from Michigan four years ago. Within two months of moving to Boston I got a job at a ritzy flower shop in a ritzy college town, Wellesley. My coworkers had been working in the flower business for almost longer than I'd been alive. They knew how to dress so the walk-in refrigerators wouldn't chill you to the bone. They knew how to grab a pair of scissors and trim an enormous box as tall as me, just shippped from the Netherlands, down to size and fit it all into an enormous 10 lbs vase in minutes.
One girl I worked with was only a little older than me, but much more sophisticated. She could bundle better hand-tied bouquets than me, she'd worked for the same flower shop in college, and she was constantly giving me advice. When I wanted to make something delicious for a dinner party, she went home during her lunch hour and wrote out her favorite strata.
This was early into my season of dinner parties, before I was invited to many parties hosted by Joe's fellow graduate architecture students, some in their early thirties, who knew just how many flowers and candles would look festive and just how much food to make. Before I learned that it was ok to be half done with the cooking, but take a break with the cocktails when guests arrived anyway. Before I learned you should probably have one bottle of wine per person. Their effortlessness seemed like trained skill, and I wanted whatever book they were reading.
Now I know you learn all that from hosting party after party, and seeing how it goes.
I pulled out that recipe she wrote down for me years ago for a baby shower brunch this weekend. The first time I made it, the guy who was actually throwing the dinner party went all Thomas Keller and disappeared into the kitchen making noodles by hand, after the guests showed up. So I pulled this out of the oven and everyone over-ate their cheese portion and drank too much wine.
It went much better with Sunday's menu of baby excitement, mimosas, herb biscuits, greek yogurt, maple bacon, and fruit tart.
It's a show stopper and always will be. It's delicious because of the ingredients, not the work, so it's more expensive but quite easy to make. Wish I could write it out for each of you and send it along on monogrammed recipe cards.
1/4 C. butter
1 lb. Shiitake mushrooms, stemmed and sliced (you can substitute cheaper mushrooms, but taste will tell)
1 French Baguette, cut into 1/2″ pieces
2 1/4 C. whole milk
1 1/2 C. Half and half
5 eggs
3/4 C. chives or green onion tops
2 Tbs chopped fresh thyme
3 cloves garlic-minced
1 1/2 tsp. salt
3/4 tsp. pepper
9 oz. goat cheese crumbled
1 1/2 C. grated parmesan
1 C. grated fontina
Combine the chopped baguette and milk in a large bowl. Let it stand until milk is absorbed, approximately 30 mins, with stirring.
Melt butter in a large pan. Add mushrooms and saute until tender. Season with salt and pepper and let cool.
Whisk half and half, and the next six ingredients in a medium bowl. Stir in goat cheese.
Place half of the bread mix in a single layer along the bottom of the dish. Top with mushrooms, parmesan, fontina, half and half mix. Repeat layering with all ingredients.
Bake uncovered until firm in the center, puffed and golden. One hour at 350.
You can use whatever type of pan you want for this, depending on what would be prettier, or if you want more dense layers.