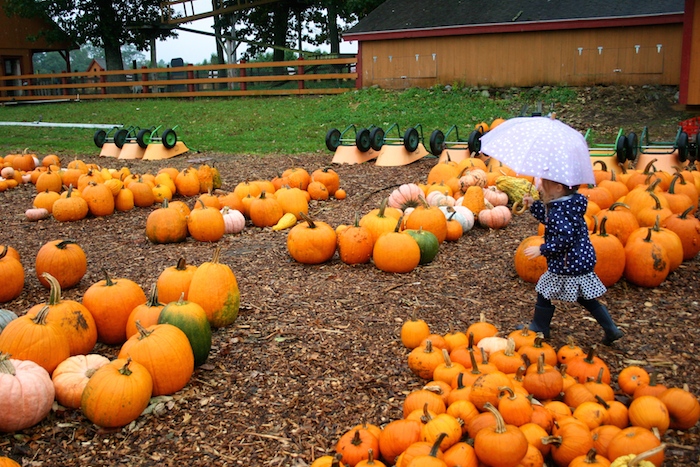 I received an email titled "Our Fix-It Diaries" and thought: YES. Because it's been the theme for the past few weeks. First, shoes to the cobbler to sew up and clean up. I don't know how I manage it but I always pick the most pessimistic cobblers. "This is just a do-our-best and see what comes of it job." "No, I wouldn't count on that one coming out matching." "I'll fix it but it won't last forever." 
I recommend not calling a cobbler if you need a new campaign statement any time soon. Sweaters in otherwise good shape except for tiny holes that threaten to widen. I tried to leave a sweater to get a little hole stitched up at the dry cleaners and she told me I should just do it myself. I wanted to say but didn't say, "Would you tell a male customer to do that?" Was there something about the way that both girls were clinging to my ankles that made me look at loose ends for something to do with my hands? Sigh.
Packing away things. Pulling old friendly things out. Remembering how lovely it is to wear a warm sweater with jeans and no coat. The coat stage is coming, but the-just-sweater stage always reminds me of how you actually see sweaters advertised. You get to be warm and not look all buttoned-in. Whistling to myself the passing wish that I had a brand new winter coat and a brand new winter hat. What do we think is the best winter hat trend this year? I would say: mono-color with furry pompom on top. Yup. Forgive me if I'm officially 12 months behind trends. It takes me awhile to warm up to them. haha.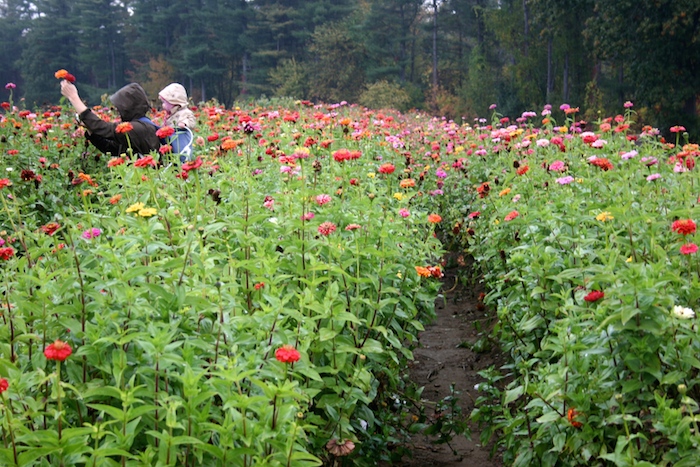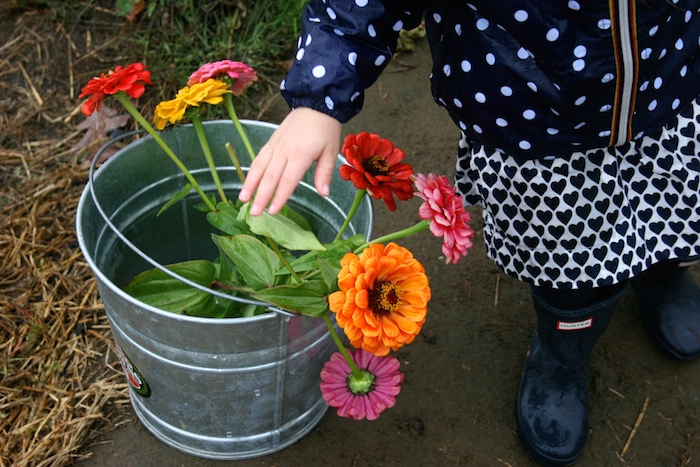 There was a lull in the land where I forgot what I wanted to do during nap time besides stay utterly and absolutely silent. It's ironic that I can't find the words to describe how much chatter fills my day except to say that sometimes people stand near me for  minute or two at a street corners, waiting for the light to change, and then turn to me and ask, "is it always like this?" Yes sir, it is always like this.
I just sat here for three minutes trying to come up with a way to describe Lux's vocal companionship right now… The image that comes to mind is this tank at the aquarium filled with sting rays that we visited last week. The sting rays have had their stinging-rays trimmed ("Just like your fingernails," the guide crowed to us), and so denuded, circle the tank like a rapidly flowing tributary of soggy pancakes, bobbing up every ten seconds or so, to brush against your hand. If you move your hand too much they sense the vibration and slink off course ever-so-slightly, and then eagerly swim on, only to circle back a minute later. That's the best visual my weak brain can muster of my three year old's conversation in my life right now.
So besides absolute silence for one hour which falls upon my ears like a soft flannelly manna from heaven–I had a breakthrough yesterday which was: bars of chocolate. I think I forgot about them all summer. And now: they are back! In all their faintly caffeinated glory.
Photos from picking zinnias and finding pumpkins at Parlee Farms two weeks ago. It was raining; it was glorious. Thank goodness for things like child-backpacks. I'm not exaggerating when I say this situation would have been a disaster if Joan had been wandering on her own in the mud. If you go, stop at Dream Diner on your way home.
I read this article in the Globe the other day, written seemingly on a lark, by a woman who brought her two little boys back the South End (Boston's Brooklyn, replete with brownstones tugged from the hands of artists who were there first) for a weekend, "to see what it was like living in the city."
It annoyed me that it was implied that living in the city for a weekend was in any way close to actually living in the city. Like if I went to Spain for a weekend, I could then write about how crazy it is to have kids in Spain.
But to my surprise, even in that short amount of time, she quickly experienced and noted the tough stuff about city life with young children. By the end of it, I didn't feel that it was a romantic article. In fact, it was the good stuff about city life that didn't get fair play.
Tough stuff: 1/ You are conscious of your close neighbors whenever your children behave like children, and are noisy—crying, stomping, jumping, dancing. You worry that they hate the noise and aren't complaining out of cringing kindness. 2/ You experience meltdowns in public places regularly because you started the two mile walk back home just a little bit too close to nap time.  3/ You spend less time dwelling at home because home is actually pretty small. 4/ If you use your car, you often can't find parking close to your apartment, and therefore add 10-15 minutes of walking to your trip home.
Anything written about this, at my stage of life, must be caveated by the fact that having young children in the city is deemed the toughest. Asking your three-year-old to walk six blocks at the end of the day because you couldn't find parking and didn't bring your stroller on the car-adventure, yes, that's tough. Living on the fifth floor and having the elevator break for most of the summer, yes, it slows you down on your way in and out, particularly when the one-year-old likes to climb stairs on her own. Hopping on the T is complicated by the presence of a stroller and a snack-loaded bag, no matter how small the bag and how slim the stroller. Rest assured the T car will be dead silent when one of yours throws a screaming tantrum, as well. The fact that your children can never wander outside on their own, with you simply watching from the window is tough and feels restraining, even unfair (to them) at times.
Having a nine year old, on the other hand, who is allowed to run to the corner market to pick up milk, who can walk side-by-side with you on the way to class before you go to work, who can name five friends who live within walking distance, and knows which train line to take the the museum, that is nice.
So I can see the future and the future is promising.
But back to the present: here are just a few things I like, limited to four lest I drone on.
1/ Every walk turns into an ad hoc lecture and discussion as we encounter new signs, businesses, cars, people, or destinations. Almost as if the city coaches me into talking to and engaging with my child. It's probably just Boston traffic talking, but I never have these type of discussions when we're in the car.
2/ I get excited about visiting new places. New coffee shops, bakeries, markets, parks, these things get me out of the house. They are probably the primary reason I live in the city at all. Your children have a calibrated barometer on your mood and know very well the things that please you. It makes me happy to know that Lux knows I'm excited about what we are doing, and that she gets excited too.
3/ You learn that the "tough stuff" is actually not that bad. It doesn't matter how many people see your child freak out. It's not really that big of a deal if you go out to eat and it goes terribly. It's actually pretty fun to get stuck on a long walk in the rain, even if the baby does cry the whole way. In the end, you always end up home, and you always begin again the next day.
4/ Hyper-awareness of strangers. I like that the girls see so many strangers every day, they get very good and clear about whether they want to interact with them. If they aren't feeling it, it's obvious (here I'm remembering Lux dropping everything and sprinting towards me when she didn't like an older lady that had started talking to her) and I don't have to worry about them wandering into something. Conversely, I like that no one is really surprising to them. They see people from all over the world smiling at them every day (even if they choose not to smile back!).
What do you like about where you live? What's tough? I'd love to hear.